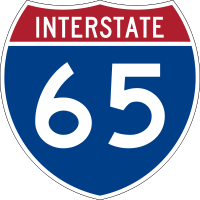 The Indiana Department of Transportation and its highway-maintenance contractors have nightly closures planned for the I-465 / I-65 intersection on the south side of Indianapolis this week. Work on pavement repairs and the installation of noise wall panels are being cited as reasons for the closures.
Beginning today, Nov. 30, at 9 p.m., the I-465 EB ramp to SB I-65 will close until 6 a.m. Tuesday. Similar closures will recur each night through Friday morning. Weather permitting, the ramp will close again Friday, Dec. 4, at 9 p.m. for concrete pavement repairs expected to last through the entire weekend. The ramp is expected to reopen before 6 a.m. on Monday, Dec. 7.
Throughout the week, crews may also restrict up to two lanes on EB I-465 approaching the I-65 interchange and on NB I-65 approaching the I-465 interchange as well.
During the closure, EB I-465 traffic will be directed to northbound I-65 and a turn-around via the Keystone Avenue exit No. 107 to return SB on I-65.
Find more highway news from around the nation, via @OverdriveUpdate.
Truckers, get national traffic and road closure information via our new "Roads 511" list: https://t.co/cPVBodsNTE pic.twitter.com/EDO0hAKUdN

— Overdrive Magazine (@OverdriveUpdate) November 28, 2015
RT @TN511: I-75 N in Hamilton Co Crash Multiple Vehicles at EXIT 2: I-24 WEST / CHATTANOOGA / NASHVILLE at 9:49 AM 11/30 est clear by noon

— Overdrive Magazine (@OverdriveUpdate) November 30, 2015
Watch for delays in Morgan Co on KY 191 around MM 14. Also watch for work on US 460 and KY 882, 1010, 946, 364, 3333 and 1081.

— KYTC District 10 (@KYTCDistrict10) November 30, 2015