The HubTran technology platform for automating transportation back-office work, today offered for brokerage and factoring companies, will see a carrier version live in 2016, says company CEO Matt Bernstein.

The company aims to "reshape the back office," Bernstein says. "Settling transactions and handling paperwork efficiently and accurately is a critical, though unglamorous, capability necessary for successful transportation companies."
The web-based platform, offered on a per-transaction fee basis (10 cents per load document, 50 cents per payable for brokers), helps with traditional invoice and document management by utilizing sophisticated optical character recognition, machine learning algorithms, and intuitive workflows. HubTran automatically retrieves and identifies documents, extracts critical information from those documents, and synchs with a company's operating system to eliminate cumbersome steps in the transaction-processing process, such as discerning bills of lading from invoices, finding load IDs, saving and filing documents and updating transportation management systems.
Errors also go down, as HubTran automatically checks transactions against a company's business rules, related payments, and vendor details.
The service provides the capability "without the need for barcodes … or laborious templating," the company says, and holds potential to be useful for both small and large carriers alike.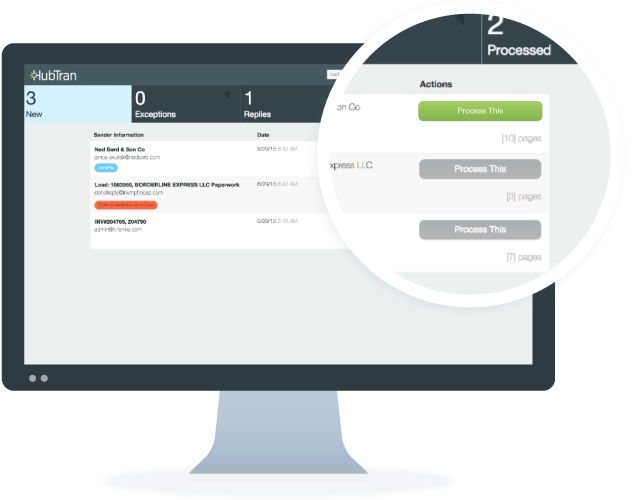 With the initial, non-carrier version, brokers and factors, Hubtran adds, can look to achieve productivity gains and significantly improved accuracy rates. Over time, that can translate to better relationships with customers and other partners given the "ability to share transaction status and documents" with those entities.