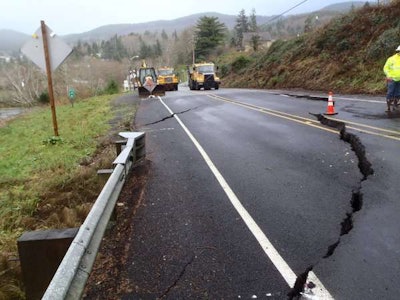 Pictures of the day: Widespread flooding hits large parts of #Oregon (AP) https://t.co/V2f8WQPMCb pic.twitter.com/AWQQaaUUa0

— Telegraph Pictures (@TelegraphPics) December 10, 2015
Northbound I-5 is reportedly back open following a landslide near Woodland, Wash., in the Southwest part of the state that closed it entirely on Wednesday, snarling traffic on the U.S. 30 alternate, which had itself been closed for a time.
Traffic moving again NB I-5 in SW Washginton! Drivers should still plan ahead for delays until all lanes reopen. https://t.co/TbgrnqNAwY

— Washington State DOT (@wsdot) December 11, 2015
Problems with flooding, slides and sinkholes, however, continue throughout areas of the Pacific Northwest.
Both governors of Washington and Oregon have declared states of emergency in recent days, and weather forecasts show more water in the forecast for a region that has received upward of a foot of rain in many areas with what some have called a "firehose" coming off the Pacific.
Among other notable closures are cracks in pavement on U.S. 101, which closed it in two sections in Wheeler, Ore.
US 101 at #Wheeler to remain closed through the weekend. Roadway has sunk too much to allow traffic on it. (1/2) pic.twitter.com/xucvoCQbBe

— Oregon DOT (@OregonDOT) December 10, 2015
Oregon DOT reported hopes of opening "at least one lane" by early next week.
Keep tuned to traffic and weather information before headed into the area.
Tweets from https://twitter.com/channel19todd/lists/roads-511