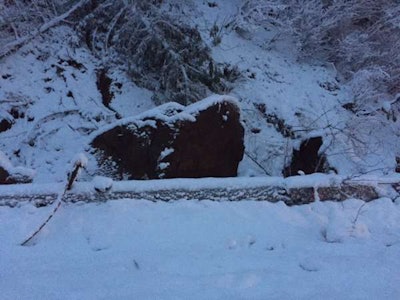 Heads up on Snoqualmie Pass, eastbound I-90 closed in North Bend due to heavy snow and a debris slide. https://t.co/C3EG6yKKsx

— Washington State DOT (@wsdot) December 14, 2015
Early morning Monday, Dec. 14, the Washington State Department of Transportation reported all lanes of eastbound I-90 were closed in the Snoqualmie Pass area at MM 34 near North Bend, Wash., following heavy snow conditions as well as a reported debris slide.
Daylight revealed several boulders, trees and other debris had fallen into the roadway.
Large boulders fell onto the shoulder of EB I-90. The rocks shattered and bounced into the highway. No injuries. pic.twitter.com/cK9FqGYC8D

— I-90 Snoqualmie Pass (@SnoqualmiePass) December 14, 2015
After assessing the stability of the slopes to determine safety for truckers and travelers before the reopening the pass, WsDOT noted early Monday the roadway was back open by mid-morning, though snow and ice remained.
Snow and ice on roadway. https://t.co/srvm2ZA418

— Washington State DOT (@wsdot) December 14, 2015
Catch any further updates at this link or via the WsDOT Twitter feed.
U.S. 12 over White Pass in the state, too, was closed in both directions after a washout following the heavy rains that have plagued the region over the last week. The eastbound closure is at milepost 138, near the junction of state road 123 and U.S. 12, the westbound closure at MM 183 near Oak Creek. Local traffic only will be allowed to milepost 159 at Upper Tieton Rd. This is expected to be an extended closure, as most of the eastbound lane has been washed away near MM 142 and MM 153.