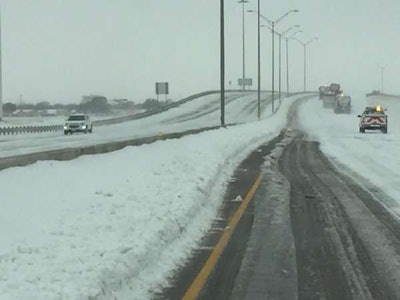 TXDOT Dallas crews (35 people, 25 pieces of equipment) assisting Lubbock District today in blizzard conditions. pic.twitter.com/ev8kDlotCs

— TxDOTDallas District (@TxDOTDallasPIO) December 27, 2015
Unseasonably warms temps around the nation gave way to unpredictable severe weather across the nation leading into the Christmas holiday and through the weekend. Following tornadoes across the Southeast last week Wednesday, and in and around Dallas and other parts of Texas Saturday, severe winter storms hit New Mexico and parts of Texas, briefly closing I-40 in some places, and ice continued to plague areas further South today, particularly the area around the I-10/I-20 split near El Paso, Texas.
The situation there continues, with truckers and travelers on the EB side, according to Texas DOT, moving very slowly still.
TxDOT continued to urge travelers to avoid the area as of noon Central time Monday.
Update: I-10 eastbound near I-20 split still backed up. Crews working as fast as they can to blade ice. Travel still not advised. #TxDOTWx

— TxDOT (@TxDOT) December 28, 2015
Khrisnadev Calamur, writing in the Atlantic, noted the weather had taken 43 lives all told around the nation this past week, and summed up the National Weather Service's forecasts for parts of the Midwest and South this way:
The National Weather Service said more snow was expected in the southern high plains, and heavy rains and thunderstorms in the Mississippi Valley. Blizzard warnings remained in effect for parts of the Texas and Oklahoma panhandles, and winter-storm warnings were in effect from central Texas through the Midwest and Great Lakes. Winter-weather advisories and winter-storm watches were also issued for New England, and flood and flash-flood warnings for northeast Texas, the mid-Mississippi Valley, as well as the Tennessee and Ohio River Valleys.
Read more from that report at this link.
Watch weather reports if you're heading into or out of any of these areas through this week, leading into New Year's Day.
Catch updates live from the Twitter feeds of most state DOTs' road information services and some weather services via our Roads 511 custom list below or via this link. Got a report of your own to share? Tweet us @OverdriveUpdate or Senior Editor Todd Dills @channel19todd and we'll share it with readers.
Tweets from https://twitter.com/channel19todd/lists/roads-511