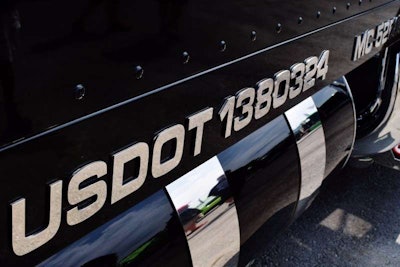 The Federal Motor Carrier Safety Administration launched the first phase of its new Unified Registration System on Dec. 12.
The new system provides a "simplified online registration process that truck and bus companies, freight forwarders, brokers, intermodal equipment providers, and cargo tank manufacturing, inspection and repair facilities use as new applicants for USDOT registration," FMCSA says.
New applicants, defined by FMCSA as anyone who doesn't have and has never been assigned a U.S. DOT number, are required to use the new online application when requesting registration and a DOT number as of Dec. 12. The new online application and database won't be available for those who already have a DOT number until Sept. 30, 2016.
The URS combines multiple forms into a single, online "smart form" that streamlines the registration and renew process, improves efficiency, reduces errors and strengthens safety for the motoring public, according to the FMCSA.
The agency adds that once the system is fully implemented in 2016, it will allow the FMCSA to "more readily identify unfit carriers and detect unsafe truck and bus companies seeking to evade agency enforcement actions, including civil penalties, by attempting to regain USDOT registration by registering as a purported different, unrelated business entity."
The launch of the URS new-applicant system follows two years of enforcement of a biannual-update requirement for all carriers that was detailed in the following early-2014 story, written as FMCSA began deactivating the authority of carriers who had not made the required every-two-years update: