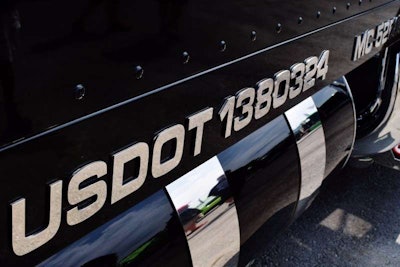 Beginning Sept. 30, the Federal Motor Carrier Safety Administration will require trucking companies use the online Unified Registration System and will stop accepting paper forms or faxes to apply or update records.
That day, the agency will launch the second phase of the new, simplified electronic system that will replace existing registration databases. URS will be the sole source of registration data for FMCSA staff and motor carriers, as well as for state licensing and roadside safety enforcement personnel.
When fully implemented, FMCSA says the URS will better identify unsafe companies that try to regain registration by attempting to register as a different, unrelated business entity. The agency anticipates the new system will save the industry $9 million in time and fees over the next decade.
This system is not to be confused with Unified Carrier Registration, which is not an FMCSA program. UCR is the interstate agreement governing registration information and UCR fees paid by motor carriers, private carriers, brokers, freight forwarders and leasing companies.
On Dec. 12, FMCSA implemented URS' first phase by requiring new applicants for registration use the MCSA-1 online form.
The second phase will involve registration entities subject to Federal Motor Carrier Safety Regulations. This will affect interstate motor carriers and private and for-hire property and passenger motor carriers. It includes freight forwarders, brokers, intermodal equipment providers, hazardous materials safety permit applicants/holders, along with cargo tank manufacturing and repair facilities.
The only entities exempt from the online registration system would be Mexican long-haul carriers. These are outside the scope of the URS regulations, but will be part of a later rulemaking implementing additional requirements included in the 2012 surface reauthorization act.
Before the second phase starts, entities that only had MC and FF numbers will receive USDOT numbers because only the latter will be used after the second phase begins.
Historically, companies did not pay to receive a USDOT number. Beginning Sept. 30, new applicants must pay a $300 fee for each registration type, including safety and operating authority registrations. Companies will still receive a USDOT number, but a distinct safety registration is necessary to operate commercial motor vehicles in interstate commerce.
Beginning Dec. 31, new exempt for-hire and private hazmat carriers must have insurance filed by insurance carriers, just as non-exempt for-hire carriers, brokers and freight-forwarders currently do. Also, new private and exempt for-hire carriers must have on file a Designation of Service of Process Agent (Form BOC-3) before receiving registration.
Existing carriers may begin filing Sept. 30, 2016, and must have filings in by Dec. 31. More information is available here or by calling 1-800-832-5660.