Update, 1/7/16: The Federal Motor Carrier Safety Administration announced late Thursday, Jan. 7, that it has reinstated Land-Air's "conditional" rating, allowing the carrier to resume its normal operation. Here's an excerpt from FMCSA's statement: "Based on a negotiated Safety Management Plan, and evidence of actions taken by the company to correct deficiencies in its safety management system, Land-Air's rating has been upgraded to 'conditional,' and the out-of-service order lifted. As part of the negotiated agreement, FMCSA will closely monitor the carrier's safety performance for the next two years."
Here's the original story, posted the morning of Jan. 7, 2016: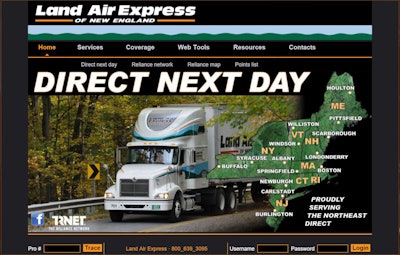 A Vermont-based 300-truck LTL carrier is fighting to resume its operations following a recent compliance review by the Federal Motor Carrier Safety Administration that led to a "proposed unsatisfactory" safety rating and subsequent out-of-service order.
Land-Air Express of New England's 330 trucks and 340 drivers have been idle since a Dec. 29 out-of-service order, says FMCSA.
President William Spencer, however, says the company has fulfilled FMCSA's basic remedial requirements and is waiting to hear that it can resume work.
He wouldn't offer specifics on measures taken to shake the out-of-service order, but he said he and the staff are "doing our best to accomplish" what the agency asked and awaits reinstatement of its "conditional" safety rating.
FMCSA says it issued the "proposed unsatisfactory" rating to the fleet in October, giving the carrier 60 days to submit a corrective action plan or see its safety rating moved to "unsatisfactory." Land-Air did not, FMCSA says, though the carrier still had the option of appealing the out-of-service order or submitting a corrective action plan following the Dec. 29 out-of-service order.
FMCSA spokesperson Duane DeBruyne says more than 800 carriers each year move from "proposed unsatisfactory" ratings to "unsatisfactory" ones, as Land-Air did. DeBruyne said in an email that carriers, once deemed "unsatisfactory" must appeal the rating or submit to FMCSA a corrective action play "acceptable to USDOT."