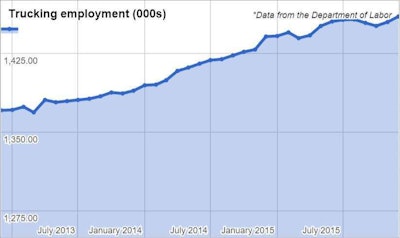 The for-hire trucking industry in December added 5,300 jobs, according to the Labor Department's monthly preliminary employment report, pushing the trucking industry to another all-time employment high and continuing a now multi-year trend of steady employment growth in the trucking industry.
December's total employment figure in the for-hire trucking industry, reported by the DOL as 1.462 million, was just shy of 20,000 jobs higher than December 2014.
The U.S. economy as whole added nearly 300,000 jobs in the month, while the country's unemployment rate held at 5 percent.
The economy's transportation and warehousing sector, the umbrella industry for truck transportation, added 23,100 jobs in the month. The construction industry added 45,000 jobs in the month, according to the DOL, while U.S. manufacturers added 8,000 jobs.