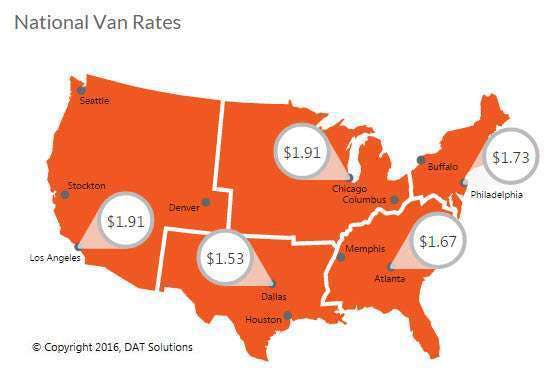 Declining diesel prices further put a damper on rates this past week. At $2.11 per gallon nationally on average, the lowest price since March of 2009 in the midst of the last recession, diesel prices dictated an average fuel surcharge of just 16 cents per mile, according to DAT.
Rates fell, too. While linehaul rates are not exceptionally low, the ultra-low, falling surcharge helped drive spot market van rates down 5 cents a mile to a national all-in average of $1.68 per mile.
Rates fell for hauls originating in Los Angeles, Dallas, Chicago, Atlanta and Philadelphia, but strong freight volume may lead to a rebound on the most popular lanes this week or next. These rates are based on actual rate agreements between freight brokers and carriers.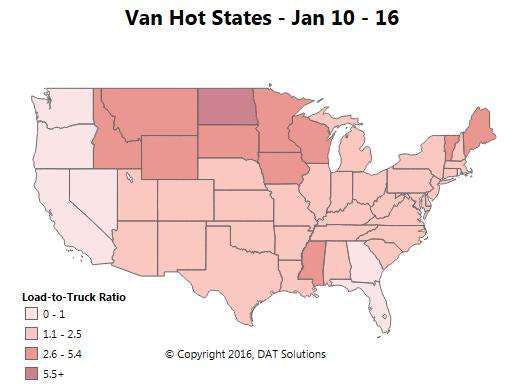 That advice applies if you're headed outbound from Los Angeles, from which owner-operators on average are getting about $2 a mile, to Seattle, where loads for the return are scarce if you can find one at all. Average rates from Seattle to L.A. have been much too low for good profitability of late, but split the return, without adding many miles at all, with shorter hauls to Medford, Ore., then to Stockton, Calif., then another from Stockton to L.A. You'll have more picks and drops, which can be time-consuming, but you'll also make better money on your loaded miles. You will add about $650 in revenue, and boost your overall revenue to $1.79 per loaded mile for the roundtrip, which could make for a decent take in a slow season. Examine the details further below.