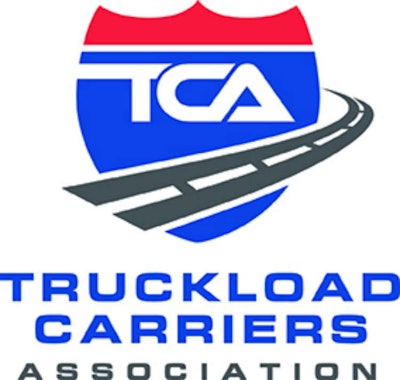 The Truckload Carriers Association has announced its division winners for the annual National Fleet Safety Awards.
The awards, sponsored by Great West Casualty Company, honor trucking companies that "demonstrate a superior commitment to safety and accident reduction," TCA says.
"Truckload carriers are constantly striving to improve overall safety while out on the roads," said Holly Caskey, TCA's Safety & Security Division chair and the vice president of driver training for Dart Transit Company of Eagen, Minn. "It takes a lot of work, and it's a tremendous achievement when you can boast a very safe record, so we want to showcase that via this contest."
The divisions are divided by number of miles traveled per year. The division winners, based on low accident frequency ratios per million miles, are:
Division I (under 5 million miles)
Stageline Express – Coopersville, Mich.
FTC Transportation – Oklahoma City, Okla.
Rocha Transportation – Modesto, Calif.
Division II (5-14.99 million miles)
MacKinnon Transport – Guelph, Ontario
Hi-Tech Express – Roseville, Minn.
Landstar Express America – Jacksonville, Fla.
Division III (15-24.99 million miles)
Smokey Point Distributing – Arlington, Wash.
High Country Transportation – Midlothian, Texas
Division IV (25-49.99 million miles)
Halvor Lines – Superior, Wis.
Trans-West – Lachine, Quebec
Erb International – New Hamburg, Ontario
Division V (50-99.99 million miles)
Groupe Robert – Rougemont, Quebec
May Trucking Co. – Salem, Ore.
Cargo Transporters – Claremont, N.C.
Division VI (100+ million miles)
Bison Transport – Winnipeg, Manitoba
Interstate Distributor – Tacoma, Wash.
Landstar Ranger – Jacksonville, Fla.
The safety numbers used to calculate the winners were verified by an audit conducted by an independent expert, TCA says. The division winners will be recognized at an awards ceremony to be held during TCA's Annual Convention on March 6-9 at the Wynn Las Vegas Resort, and they will be recognized again during TCA's Safety & Security Division Annual Meeting on May 22-24 at the Worthington Renaissance in Fort Worth, Texas.
For the next step of the competition, the division winners will compete for two grand prizes, one in the "less than 25 million annual miles" category and one in the "25 million or more annual miles" category. To win the grand prize, companies will be judged on their overall safety programs, both on- and off-highway, including employee driver/independent contractor selection procedures, training, supervision, accident investigation, inspection and maintenance of equipment, and outside activities including general highway safety.