We have friends who own an estate sale company, and the last time I was home, I had the opportunity to work with them doing a set-up. Getting a house ready for an estate sale is like throwing yourself into a whirlpool of dust, emotions and history. It's a delicate and dirty business. It's also one of the most fascinating things I've ever done, and once again, the experience proved to me I cannot escape trucking, no matter what I'm doing.
The home we were clearing belonged to a lady who was what I would call a Dayton, Ohio, Socialite. She was involved in a lot of charities and city improvement programs, she traveled, she had a career in the insurance industry, and from everything I gathered by categorizing and pricing the treasures of her cumulative time in the mortal coil, she was an incredibly interesting and vibrant person.
Even after the family went through and took the most personal items, there was an enormous amount of things to go through – three bedrooms full of drawers and closets, full of boxes and tissue-paper-wrapped sweaters and furs and old-lady smells. This woman had great taste, and she didn't buy cheap. It was really fun to imagine her in the old cinch-waist, flair skirt dresses, with exquisitely feathered hats and rhinestone jewelry. I was a little bit enchanted – can you tell?
Part of the set-up process is to amass as much information about the sale items as possible, so the best prices can be set. This requires a lot of Googling, and I have no idea what estate sale people did before Google, because, damn. There was more "OK Google, what's a blah blah blah…" going on than you could shake a stick at. I learned more about Kentucky Derby artifacts than I ever thought I'd know in my life.
I was looking through a drawer and came upon what I thought was a coin, until I dug it out and got a look at it. It was a 1935 Ohio Chauffeur License pin, and I was so excited to finally find something I didn't have to Google, I ran into the main room like I had just found the Hope diamond.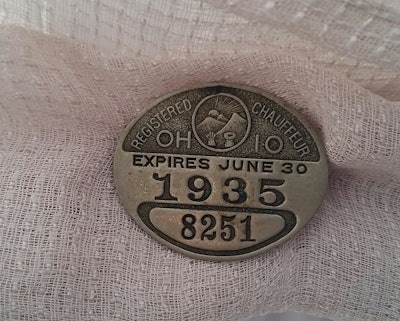 "Holy crap, I know what this is! I don't have to Google it!"
Everyone stops what they're doing. Expectant looks.
"This is a prehistoric CDL!! Truck drivers had these before it became a Commercial Drivers License, and this one is old as hell! They wore it on a cap, I need to find the cap…"
And it was really neat to be able to share it with them, they were genuinely interested in the history, and a new opportunity to talk about trucking was born. (Like I need any, but hey, it's our business – it's what we do.)
I never found the cap, but Rachel was thoughtful enough to let me negotiate the pin as part of my pay for helping with set-up. She knew George and I would appreciate it, and that's really a huge part of successful estate liquidation. People who are good at it recognize that, and make sure that people who will pass the history on get these pieces.
Here's the downside. I've become a little obsessed with the pins now, and feel the urge to collect them. I need another collection of things like I need a hole in my head, but I've got to leave something for my kids to dig through, so why not? Here's to a little bit of history, pass it on.