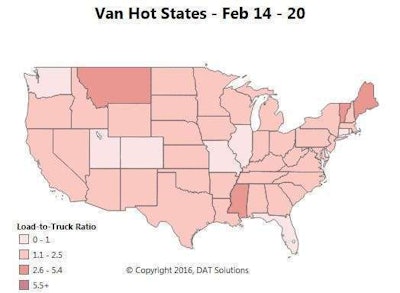 Last week saw van demand rebound from the winter doldrums slightly last week, with the average load-to-truck ratio moving up to 1.4 loads per truck in DAT's network of load boards. Though it's probably a little early to call, the rise could mark the start of a long-awaited upward trend. Mississippi was a hot state, with a load-to-truck ratio above 5.5 loads per truck.
By this week, however, Mississippi has already cooled off and Arkansas is heating up. Montana and Maine look hot, but they're not. While there's a shortage of trucks, there are not a lot of loads available in those states.
Van rates held steady last week at a national average of $1.58/mile, but that stability masked some regional churn. Outbound rates rose in Los Angeles, Dallas and Memphis but those gains were offset by declining rates in Chicago, Atlanta, Philadelphia and Buffalo.
Here's a look at the lane along I-5 between Stockton, Calif., and Seattle. You can take advantage of recent rate increases northbound out of Stockton all the way to Seattle for the 800-mile haul, averaging $1.86/mile last week.
The challenge is to get out of Seattle without losing your shirt. Loads straight back to Stockton paid just $1.07/mile on average — that is, if you can even find one. Minimize the pain by taking a series of shorter hauls: Seattle to Portland ($2.25/mile), then Portland to Stockton ($1.13). If you have the time, you can even look for a short haul from Portland to Medford, in southern Oregon, and yet another one from Medford to Stockton. Be creative, but try to get your loads lined up in advance, so you don't add a lot of deadhead miles. Examine the details, based on lane rate averages from DAT's TruckersEdge Enhanced and RateView, below.