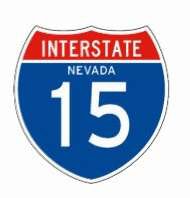 Truckers running I-15 in the Virgin River Gorge should expect delays of up to one hour Tuesday, March 8, through Thursday, March 10, the Nevada Department of Transportation reported. Arizona DOT road crews will be pouring the final piece of concrete bridge decking in Arizona's far northwest corner.
Speed limits will be dropped to 25 mph in and around the work zone, which is along the south bridge at Mile Post 16 between Mesquite, Nev., and St. George, Utah. Commercial trucks will be limited to 40 tons. Trucks traveling along Interstate 15 are typically limited to 64.5 tons, NDOT says.
The speed limit reduction is to prevent vibration, which can adversely affect the concrete's curing. The reduced speed limit will be enforced between 8 a.m. Tuesday and 11:59 p.m. Thursday.
Traffic in both directions is using the northbound bridge as work is conducted in the Virgin River Gorge. The southbound bridge remains closed for the reconstruction project, which is scheduled to be completed by summer.
Tweets from https://twitter.com/channel19todd/lists/roads-511