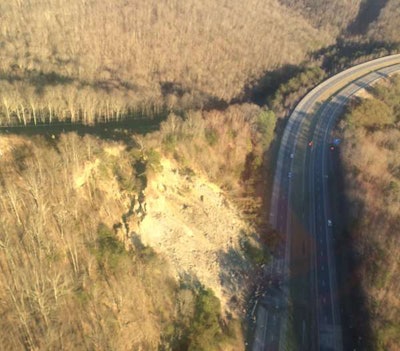 Video: A walk along the covered lanes on I-75 at MM 142 in Campbell County. Slope slide has closed SB and NB lanes. pic.twitter.com/oTEgGF72EZ

— Mark Nagi (@MarkNagiTDOT) February 29, 2016
Both north- and southbound lanes of I-75 near the Tennessee/Kentucky state line were closed on Friday this past week after a rock slide in Campbell County.
Queried as to the time of the closure, Tennessee Department of Transportation officer Mark Nagi stressed weeks, not days, would be required to reopen the roadway fully.
I would be prepared for weeks, not days… https://t.co/zYzPtuxVJY

— Mark Nagi (@MarkNagiTDOT) February 29, 2016
Northbound drivers are detouring at Exit 134, along U.S. Highway 25W, through LaFollette and to Jellico, both in Tennessee, then back to I-75 at Exit 160.
Southbound drivers take Exit 160 and follow state route 297 to route 63 and back to I-75 at Exit 141.
Wide loads headed SB should take exit 29 (at Corbin) in Kentucky and follow U.S. Highway 25E into Tennessee to I-81 Southbound.
Such loads headed north take I-40 East to I-81 North, then Exit 8 at Morristown to follow U.S. 25E back to I-75 in Corbin.
UPDATE 3/1/2016 9 a.m. CST:
The Tennessee Department of Transportation awarded an emergency contract on Monday to clear and repair Interstate 75 at the slide. The $2.9 million contract was awarded to Charles Blalock and Sons, Inc. The contract includes removal of the slide debris, stabilization of the existing slope, and repairs to the highway. The contract also stipulates the southbound lanes of I-75 will be reopened within 14 days and one lane on the northbound side will be reopened within 21 days. The entire repair project is scheduled to be complete on or before April 15, 2016, TDOT reported.
Tweets from https://twitter.com/channel19todd/lists/roads-511