The annual NTEA Work Truck Show is ongoing this week in Indianapolis, featuring medium- and vocational-duty equipment displays and more. Several major trucking industry suppliers announced new or updated equipment and features at the show. Here's a look at the news from the show, with links to the full stories on Overdrive sister site CCJ:
Mack updates exhaust aftertreatment, adds 13- and 14-speed option to mDrive HD transmission
Mack Trucks announced it will begin taking orders in August for the new 13- and 14-speed spec's for its mDrive HD, available in Pinnacle, Granite and Titan models. The mDrive HD is a more rugged, beefier version of the standard on-highway mDrive.
The truck maker also announced the second generation of its proprietary exhaust aftertreatment system. The ClearTech One system will also be available for order in August on Pinnacle and Granite models. The system, billed as a more compact, lighter and more efficient system than its predecessor, combines into one unit the diesel particulate filter, the selective catalytic reduction system and the diesel exhaust fluid system.
Cummins unveils 2017 medium-duty engines
Cummins introduced at the show the 2017 editions of its medium-duty workhorses, the ISB6.7 diesel engine and the slightly larger ISL9.
More details on both engines at this link.
International DuraStar, WorkStar add fourth engine option; DuraStar gets crash avoidance system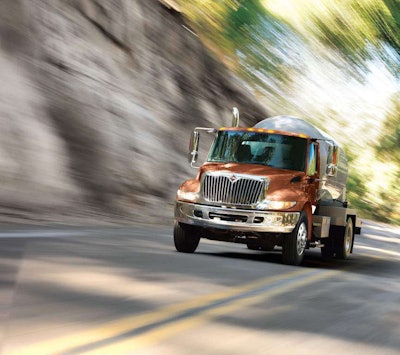 International now offers a fourth engine option for its DuraStar and WorkStar lineup of vocational trucks — the 9-liter Cummins ISL9. The engine is now available for order in both trucks, joining the Cummins ISB6.7 and Navistar's proprietary N9 and N10 as the engine choices for the two work truck models. International also announced the availability of the Bendix Wingman Fusion crash avoidance system for DuraStar models.
Detroit intros DD5 medium-duty engine
The Detroit DD5, which will be available for order later this year in Freightliner Class 5/6 M2106 trucks, is the first of two new medium-duty engines, with the Detroit DD8 planned to follow in 2018.