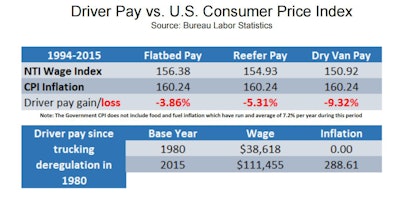 Pay for truck operators has failed to keep up with inflation since 1980, effectively slashing truckers' wages by nearly a third, according to analyst Gordon Klemp, president of the National Transportation Institute.
Klemp, who spoke Feb. 26 on a conference call with investors and reporters, said truckers wages averaged $38,618 annually in 1980. If adjusted to 2015 dollars, that would be over $111,000 a year, Klemp said.
Dry van haulers may have been hit the hardest by lack of inflationary wage growth for truckers, Klemp showed, with wages falling more than 9 percent from 1994 to 2015 when comparing Klemp's NTI Wage Index to the most commonly used measure of inflation, the Consumer Price Index.
Pay for flatbed and reefer haulers has also fallen, with reefer wages falling more than 5 percent since 1994 and flatbed pay falling nearly 4 percent when comparing the NTI Wage Index to CPI inflation.
Klemp also said in his presentation that more and more fleets are turning to guaranteed driver pay packages as a means to improve their driver turnover rates. He also said hourly pay and incentive-based pay — based on safety incentives, usually — are on the upswing.
He also noted that both owner-operator income and company driver pay have climbed since 2013, bucking the overall U.S. trend of declining household income in the same span. The chart below, taken directly from Overdrive's own coverage of the long-running disconnect between the driver shortage mantra and driver pay rates, in part based on Klemp's data, illustrates the recent trends.