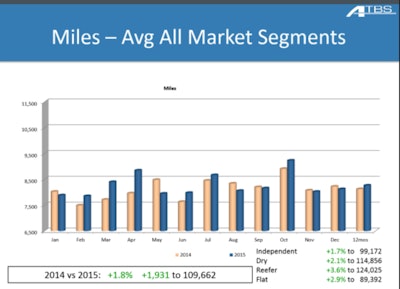 The turnover rate at large truckload fleets continued to rise in the fourth quarter of 2015, according to quarterly data released April 25 by the American Trucking Association, who pegged the annualized turnover rate for large truckload fleets at 102 percent in the quarter.
2015's fourth quarter was the second straight in which turnover at large fleets was at 100-plus, the first time since 2012.
ATA Chief Economist Bob Costello said the turnover will continue to put upward pressure on truck driver pay. "The rising turnover rate, coupled with anecdotal reports from carriers, shows what a premium there is on experienced, safe drivers," said ATA Chief Economist Bob Costello. "And those drivers have and will continue to benefit from rising wages and benefits."
Turnover rate at small truckload carriers also rose, climbing 21 points from the third quarter to 89 percent. ATA sets the cutoff for small and large carriers at $30 million in annual revenue.
The turnover rate at less-than-truckload carriers rose one point to 11% in the final quarter, and averaged 11% for all of 2015.