Trucker Path has recently updated its crowd-sourced trip planning and resource locator mobile app, available on iOS and Android platforms. The company also announced that the app recently crossed 1 million-downloads milestone.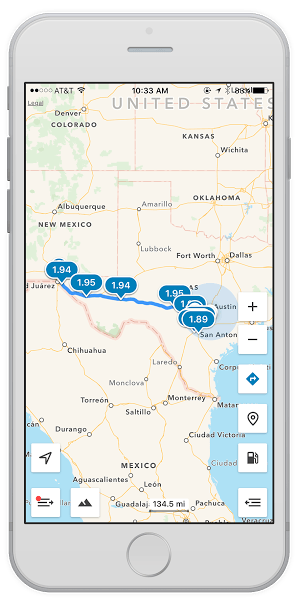 The Trucker Path Pro app now provides a new user-friendly overall design as well as a new "Fuel View" feature, shown in the screenshot. Fuel View provides a snapshot of fuel prices along a particular lane. It's accessible via the Map Views button, within the app. Tap Map View, then "Fuel," to "quickly find the bottom dollar" in your area or one to which you're headed, the company says.
Truck Path also reported statistics relative to various features' usage, including both its crowd-sourcing of driver's weigh-station status and parking availability updates around the nation.
Usage continues to show significant growth and is now averaging some 36,000 daily searches for points of interest (POI) and roughly 70,000 calls for POI details. 15,000 weigh-station-status updates are being logged by users, as well as some 13,000 truck stop parking availability updates.