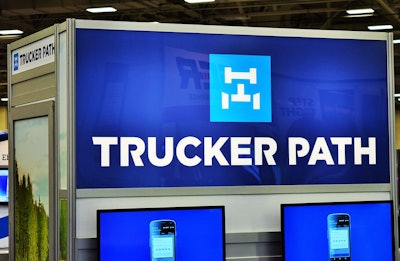 In a briefing at the Great American Trucking Show last week, representatives from the California-based Trucker Path company, creators of the Trucker Path app and a beta version of an online freight marketplace in the Truckloads app, demonstrated a commitment to serving its growing community of driver and owner-operator users.
"Trucker Path is a community," says company CEO Ivan Tsybaev, de-emphasizing the particularities of what's made the app popular among drivers, its sophisticated routing and feedback tools for points of interest, parking availability, weigh station status and more. The foundation of success now and in its future, he adds, "is community. That's what's important. Without that, technology is worthless."
New staff have come on board as the bedrock Trucker Path app gains users by the truckload.
Since we last reported on the expansion of the Truckloads app's beta version, "we have too many" truckers expressing interest in giving the freight locator/booking app a whirl, says Tsybaev. At "more than 30,000 truckers participating in the beta," he added, the company has tapped the brakes on new sign-ups until it feels like it's worked out the kinks in Truckloads and can deliver the best experience possible.
After, the app will work as a "full-blown freight marketplace," says Business Development Vice President Charlie Myers (formerly of uShip.com, England Logistics and others), giving owner-operator users a window into available freight, tools to negotiate from within the app, data to assist in pricing and more in tandem with the primary Trucker Path app's community. Broker users will be able to build trusted networks within the marketplace, Myers adds, also to "bring more carriers into their approved lists" from the large well of Trucker Path users.
Tsybaev reports the app has moved across the 400,000-active-user mark as of the first of this month — that's 100,000 users added since just the beginning of July, and a doubling of user numbers since this linked report on Trucker Path, published in April as part of the series on on-demand load matching and the so-called "Uberization of trucking" earlier in the year.
What can you expect from the company this time next year? They hope to be "fully operational with Truckloads in the marketplace," says company COO Dave Holt. "It's important to be able to provide a great user experience, to do it right. Companies that rush things out suffer, and their users suffer."