Find Part 1 in this series on the so-called "Uberization of trucking" via this link. Access all of the component parts via the page at this link.
The first time the "Uberization of trucking" phrase made its way to Overdrive editorial offices was in October 2014, with a brief LinkedIn piece by Roseanne Stanzione. Based near New York City, she heads the LaneHoney service, which purports to deliver "sweeter margins without the brokers" to independents in full truckload.
Stanzione described how new players are using tech "platforms" as on-demand models for buying and selling that "conduct business similarly to truck brokers." The difference, she said, "lies in the automation, scale and transparency of data handling, broadcasting opportunity to buyers and sellers."
While setting up established brokers as bogeymen in the independent-full-truckload game might garner some eyes, it's worth noting that many similarly focused startups are federally registered brokers themselves. Provided they can deliver a critical mass of freight and carrier capacity, it's the other things Stanzione calls out that will make such platforms attractive. They need it all if they are to deliver on the promise of better income, whether or not a traditional broker or a shipper is on the other end of the transaction.
Ivan Tsybaev of the TruckerPath application, whose own freight-matching efforts are still in beta form, doesn't like the "Uber of trucking" description of such services. "There are some companies saying, 'We're going to eliminate brokers from the supply chain,' " Tsybaev says, but that's not the reality. The goal is simply to "optimize the experience" – in his case, for the independent.
In truckload, Uberization may be more buzzword than reality. Established players slowly have capitalized on technology to improve efficiency in freight transactions – and with that, the ever-more-crucial critical mass. Landstar's huge network of independent agents and owner-operators, in-house online and mobile-optimized load board and self-dispatch model come to mind. In the spot market, brokerages such as C.H. Robinson, TQL and others likewise have built proprietary mobile apps to streamline operators' connections to their freight universes. The Sylectus transportation management software and carrier network enables collaborative freight sharing among carriers.
Also, longtime stalwarts of owner-operator load matching continue to optimize load-board systems for marketing opportunity, real-time rate and demand data availability and streamlined functionality in general.
Still, some corners of the truckload world are "back in the '90s or early 2000s" when it comes to technology, Tsybaev says, with too much still happening on paper and over the phone. "This multiplies middlemen in the industry who increase the transportation costs to shippers and decrease the truckers' profits."
"Automation is great for speed, but it's not always great for your profitability…. I'm always skeptical of taking the power of negotiation out of the hands of the parties." –DAT's Ken Harper on transaction automation on the freight spot market
Tsybaev points to the prevalence not of brokers but services such as independent dispatchers, often a necessity for the owner-operator in today's negotiation-heavy spot market. The future, he says, will see an independent owner-operator business model that "won't work with dispatchers as much." As it is today, "we had several guys who compared working with the dispatcher and without. They did some calculations." Due to the cumbersome nature of truckload freight matching today, many found "it's still more beneficial working with the dispatcher, even with his fee."
WHO WILL BE THE UBER OF TRUCKING?
A recent OverdriveOnline.com survey assessed readers' use of apps among the crowded landscape of startup mobile-device-optimized freight services with some measure of similarity to the Uber taxi service. The question: Which of the following load services have you used to book a load successfully?It's still in the early days for these types of apps for owner-operators in Overdrive's audience, so it's not surprising that "None of these" garnered 195 votes – 85 percent of all votes.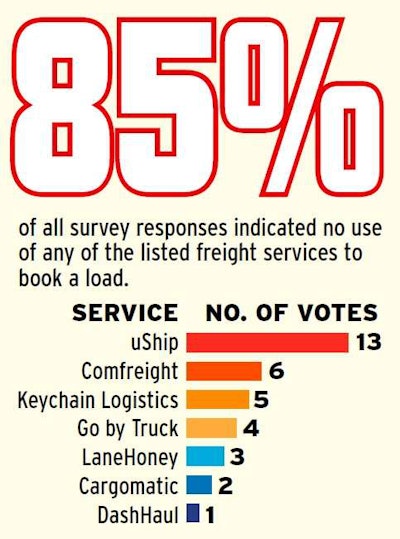 The only service showing more than 10 votes was uShip – not exactly a startup, with about a decade in reverse-auction-style freight-bidding history behind it. Trucker Path, just getting into the on-demand load-matching game, was not included, given it's still testing its freight application.

Truckload load-matching stalwarts with much larger market share, such as DAT, Internet Truckstop and GetLoaded, were not included, though all three have offered some Uber-like functionality in their online services and apps.

For detail on DashHaul, Keychain Logistics and Trucker Path, click through those links or images associated with each of the services below.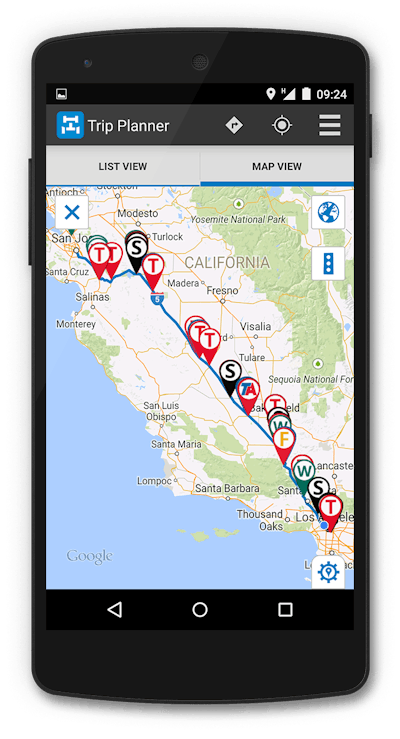 Thayne Boren, Truckstop .com mobile-tech general manager, says a lot of brokers his company works with "don't have a mobile strategy per se." The company, formerly known primarily as Internet Truckstop, increasingly is becoming the connection engine for such entities to cement relationships with trusted carriers in their network. And vice versa. The next time you post your truck's availability to the Truckstop .com board, your response may not be a phone call but a text message prompting you to download a broker's app.
The company's "Branded Broker" program of native smartphone apps from brokerages using the board enables the kinds of functionality featured by "Uberized" platforms such as Cargomatic. The apps' controls are integrated into the brokers' transportation management systems. "They're able to push load info or tender a load to a driver" directly within the app, Boren says. "The driver can choose to accept that information and put it in a queue of what they've got pending – whether accepted or completed" and ultimately paid.
The smartphone camera is used to deliver document images needed for proof of delivery and otherwise. "We allow carriers to adjust the photo settings on the cameras themselves, and we run [images] through an engine to scan for greater photo quality," Boren says. Carriers then are enabled to search for available freight from that particular brokerage.
If the driver doesn't have the app, Boren says, rate confirmations and loads tendered out to the driver then can arrive as text messages with a link to the app store to download the app. If they do have the app, it all happens within, and there's "two-way messaging within the app" for communications and negotiations.
"We are essentially an engine from within their TMS" (transportation management software), says Boren. "It's a way to get into the cab with a third-party carrier, as well as have visibility into the freight movement."
Boren hopes that it all gives "the carrier the ability to work more closely with the brokers they enjoy doing business with," an answer to a question company reps hear often: "'Where else can I go to find freight from these guys?' Carriers are interested in how they can work more closely with their preferred partners," and from a broker's perspective, it holds the potential to eliminate a lot of "one-and-done" movements.
DAT's My DAT Trucker app offers some similar functionality in its nearby load search, which includes results from its extended network of loads. Mike Weaver, DAT enterprise sales director, says brokers who do so "reach their intended capacity by geotargeting those truckers. Those with the branded load, their logos appear on the searchers' phone based on geolocation." Carriers can "choose to direct-dial those load providers within the app."
Recent updates to DAT's premium Power load board are geared toward delivering a more seamless experience for carrier users. They also provide more instant access to lane-rate data averages and haul options geared toward enhancing profitability on trips. (For more on the subject of using data to maximize load profitability on the spot market, read this linked 2014 feature on the subject.)
As more of the spot market truckload freight transaction process moves online and gets conducted from a mobile device rather than a laptop, truckload freight matching gets closer to the Uber model.
But, says Ken Harper, DAT senior vice president, and echoed by Boren, it's unlikely to go all the way there – "certainly not anytime soon, not for the long-haul stuff." The immense variety and degrees of specialization in truckload long-haul is one factor. "Is the carrier qualified to take the type of freight that's being hauled?" Harper asks. DAT, he says, hasn't felt the impact of Uberization if it's defined by the demand for a defined rate and direct shipper/carrier connection across segments.
"Automation is great for speed, but it's not always great for your profitability," Harper says. "I'm always skeptical of taking the power of negotiation out of the hands of the parties" in any transaction.
In terms of the mobile-access aspect of Uberization – and access to information to inform rate negotiation and load planning for individual independents – the share of TruckersEdge.net users who access the board on a smartphone or tablet doubled in 2014 to almost a third of users. The share only will continue to grow, says Scott McCollister, DAT product manager.