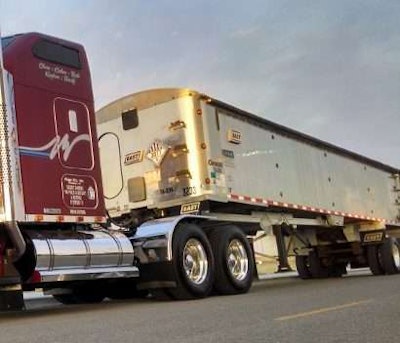 In addition to Zach Beadle's ISS score situation, another reader, Kacie Sill, wrote in over the weekend after reading my update on No Broker Freight published a couple weeks back here on Channel 19. Sill and her husband, she said, were in a somewhat similar situation to the reader noted in the story, Manuel Chavez, trying to suss out "legitimate freight options," Sill wrote. "We are currently members of TruckersEdge and Truckstop, and are struggling with the rate offers."
Both of those boards will be familiar to most independents out there. They're both sources with plentiful freight, most of it from brokers, though some shippers use the technology to source spot capacity from time to time.
Others include 123LoadBoard, Truck It Smart, GetLoaded and more, all with their own monthly subscription prices and spin on things, and all of whom have been around several and more years.
When it comes to the new crop of tech firms and tech-enabled brokerages pitching to operators on the strength of their mobile technology (read: uberization of trucking, again, sort of, those I know plenty of you are sick of the term — me too), the one that might come closest to being "legitimate" in terms of the volume of directly broker-posted loads might be the Trucker Path company's free Truckloads app.
I talked with company founder Ivan Tsybaev last week in the context of another new player in the mobile-optimized load board or "freight marketplace" space, for lack of a better term. Tsybaev says Truckloads has had success attracting brokers to post freight directly to the Truckloads platform, accessed by owner-operators through the app or via this website, rather than relying on third-party services for loads. "We have more than 600 companies posting" in Truckloads, he says, to the tune of "100,000 truckloads a day in the platform."
That follows the company's introduction of the app in mid-late 2015, following something of a splash with a big presence at the Great American Trucking Show. It's key to note that what you'll find in Truckloads is of a piece with other load boards — third party brokers, primarily, as Tsybaev notes. They're hoping to make their money not through any Truckloads base subscription in the future but via premium accounts with added services in the Trucker Path app itself, likewise a factoring service it's planning to offer through Truckloads, he adds.
Another marketplace-type service to keep an eye on is Overhaul, which I've written about in recent memory. I'll hopefully talk with them for an update on their progress directly connecting truckers with shippers, not brokers, in the new year at the latest.
Other such tech companies are operating as brokerages themselves, like Convoy, whose recent announcement of a freight deal with Unilever seemed fairly significant, and one whose recent news sparked the conversation with Tsybaev to begin with, Uber itself, whom a particular Business Insider told me like a little birdie had soft-launched its own freight-matching tech with carrier partners and apparent shipper customers with a full-on launch set for the new year.
Uber Freight's brokerage authority is on the books, and its partially-automated driver-assist technology in Otto, which made headlines recently with a partially automated truckload beer delivery in Colorado, has its motor carrier authority with drivers testing its automation technology.
"Otto drivers use Trucker Path too," Tsybaev says, ribbing his Silicon Valley friends, of a fashion.
Which all is to say, a lot is happening, but tried and true methods still are most likely to keep you loaded most profitably long-term. Radio host and well-known owner-operator-business prognosticator (former owner-operator/small fleet owner himself) Kevin Rutherford re-emphasized lane specialization and strong relationships on both ends as a key toward business health for the long term. "We need a lot more collaboration between the owner-operator and the broker," he said in a panel conversation with Farm2Fleet Trucking's Bill Hood and Truckstop.com's Brent Hutto at the Connected 2016 user conference last week. Win-lose situations of price-only-type negotiations — many owner-operators' only contact with their brokers — create very "antagonistic relationships," Rutherford added. "I've been trying to hammer home the idea to the owner-operator that the broker is your customer. [The customer is] always the business that writes the check that you cash."
He asked the room — mostly brokers — how many felt like the owner-operators they deal with treated them as customers. Nobody raised their hands. Only a couple raised their hands when asked if they treated the owner-operator like a customer. "We need to be working together a whole lot more," he said.
As I intimated in my Thursday post last week, and which Rutherford repeated in his Wednesday address to the conference, he urged owner-operators and brokers alike to "do the hard work" and build those relationships, taking the time to meet face to face and strengthen ties. "I've worked in trucking 30 years, and it's not unusual for me to start to work with somebody" via a phone conversation, he said. "But when I meet them face to face the relationship changes" for the better.
He urged owner-operators to, "instead of getting on the load boards and chasing rates constantly, pick a couple brokers you like, show up and take them for coffee and lunch – that'd put you in the top 1 percent of owner-operators for them," more likely to be the go-to biz in the lane where you specialize, the first choice for loads with plenty profit in them.
Provided they're open to it, of course. A comment under my last post on Rutherford's advice, from "Nomoredriving": "Yeah I'm going to make a point to stop by and have a face to face with the hundreds of brokers I've used over the years. Sure I got time for that. I'll bet they all have truck parking at their offices. If they saw a truck pull into the parking lot, they would lock the doors and hide under their desks for fear of retaliation from some driver they hosed. They probably sit behind bulletproof glass and steel doors like so many cowardly dispatchers do."
And a reply: "At least you have held onto your sense of humor."
Which all is to say, there's many ways to skin the cat on freight, of course, and I hope any of this helps, if most is probably well familiar.
What are the rest of you relying on primarily these days? Tips, suggestions, slanders, etc., hit us in the comments below.
Following find links to several more or less in-depth stories on the subject from the past couple years: