Reducing a lot of the friction in the freight transaction between brokers and owner-operators has been in a variety of ways the goal of the new crop of tech-enabled brokerages and/or online freight marketplace-type services, as I've written about fairly extensively in somewhat recent past.
Another goal, particularly of those working within the freight-marketplace framework without a long-term aim of maintaining brokerage authority themselves, is to ultimately bring shippers and owner-operators closer, reducing any middleman's margin and saving the shipper cash on the freight movement and at once boosting rates paid directly to owner-operators.
The proof will be in the pudding, however. Whether, long-term, such services will play out exactly like that is unclear, given the infancy of many. Today, two related announcements might serve as markers along the way: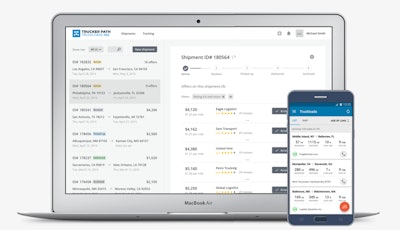 Trucker Path Truckloads
The Trucker Path company says it will announce the public release of its Truckloads app for Android and iOS — as well as a web version — March 30 at MATS. I've written about Truckloads before — it's been available to owner-operators in a beta-test version for quite a while now as the company worked out the kinks. It's been downloaded 25,000 times and expects to achieve 10,000 weekly active users and sustained 15 percent weekly growth by the end of March, Trucker Path says.
Contrary to the shipper-to-owner-operator goal mentioned above, what you'll find in Truckloads upon its late-month launch will be brokered freight — calls can be made from directly within the smartphone app for negotiations.
Currently, the company says, "300 brokers are posting 800,000 loads per month using our platform." They expect to double that number quickly as Truckloads enters its public phase.
The latest updates have enabled a key truck posting feature, common to other load boards. On March 30, users can expect the feature to be rolled out on Trucker Path Android and then gradually enabled across all supported platforms — within the Truckloads app and Trucker Path on iOS.
To try it all out, carriers can either visit the site linked above or download the Truckloads app (for either Android- or iOS-powered devices) ahead of March 30 via this link.
For anyone using it today — what's your take?

New service — Overhaul
Also purporting to be an online freight marketplace, and founded by a former FreightWatch executive, the Overhaul company launched its web platform and mobile app at the SXSW event recently in Texas. It says it's geared toward addressing "the needs of owner-operator carriers and shippers moving higher-value, more-sensitive cargo." The "uberization of trucking" concept, as Overhaul sees it, "connects the needs of premium shippers to trusted professional drivers and operators, eliminating the need to connect through third parties."
It's expected to be available after its own beta testing mid-year, the company says. You can take a run through the service's pitch via the company's website at this link.