More owner-operators are leaving their laptops at home and doing business on the road – including load-finding – exclusively from their smartphones and tablets.
When 4B Transportation owner-operator Cody Blankenship isn't pulling his hopper bottom with his 2003 Kenworth W900B, he often fills his reefer via a monthly subscription to GetLoaded online board. Blankenship used to carry a laptop and pay about $40 a month for Internet service. The Waco, Texas-based driver realized he could eliminate that cost given the speed and capabilities of his BlackBerry smartphone's browser. He uses it to access his "Trucker Basic" search and post account on GetLoaded for $29.99 monthly.
Other users are bypassing their phones' browsers and taking advantage of native apps for iPhone and Android – BlackBerry for some – that boards and various brokers and carriers have developed to foster carrier/broker/shipper connections. TransCore DAT, with its TruckersEdge mobile website, has optimized its services for a wide variety of phone platforms.
The shifting accessibility patterns of online freight resources offer new tools for owner-operators. These include the "big three" public load boards, some carriers' and brokers' in-house tools and other sources.
DAT
In volatile times, "the spot market is where you want to be," says Ken Harper, TransCore DAT marketing director. The company has since late 2011 doubled the number of drivers using TruckersEdge, its baseline fee-based load-board service geared toward one-truck owners.
DAT also offers access to loads via traditional board monitors in truck stops, and some of those loads also are available free via the My DAT Trucker Services app for iPhone and Android, a good place for drivers new to the load-search game. The app's search function is tied to cellular location data; it searches available loads within a certain radius to a particular state destination.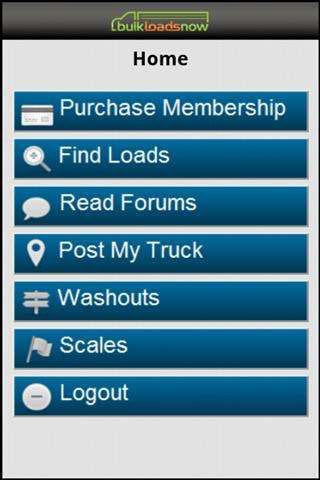 Boards for bulk, livestock loads

BulkLoadsNow.com launched three years ago as a load board for shippers and carriers in hopper bottom, end dump, walking floor, live bottom, tanker and other bulk applications. Since its launch in July 2012 for Android and iPhone, the BulkLoadsNow app has averaged about 10 new downloads daily, says Jared Flinn, operating partner. An account to search loads and post a truck on the board is available to bulk owner-operators for $29.95, and the app and BulkLoadsNow.com website include several features specific to the bulk segment, including a searchable database of washout locations.
Flinn estimates 60 percent of the board's posted loads are put there directly by shippers, with brokers accounting for the balance. Built into the board are communication tools to help carriers market themselves to shippers and brokers to "get on the right side of the table in terms of negotiating," says Flinn."Shippers and carriers can do email blasts through the site to core groups for marketing purposes," he says. Carriers can email a group of shippers in a certain state, or a shipper can build a contact list of frequently-used carriers.
Similar functionality is available via membership – $35 monthly – at the LivestockNetwork.com load board and community site, built for livestock haulers, shippers and brokers by the same developer that engineered BulkLoadsNow.com.
Another specialty board serving the bulk industry is HopLoads.com, which owner-operator Cody Blankenship uses "whenever I'm pulling my ag trailer," a hopper bottom that doubles as an open-top van.
"For occasional needs, I think it works for some users," says Scott McCollister, product manager. It doesn't have the expanded search and post functionality of a TruckersEdge subscription – TruckersEdge.net, starting at $34.95 – but among the apps, it comes closest to replicating a quick glance at the DAT load monitor, McCollister says.
Internet Truckstop
The ITS Trucker app, introduced for Android and iPhone in 2011, has connected Internet Truckstop users to a streamlined smartphone experience that more closely resembles the fully-functional laptop experience.
Thayne Boren, ITS director of sales, encourages drivers who started with the app more than a year ago to try the updates. "Data speeds are faster," he says. Also, ITS has added key features such as a fuel-optimization program and broker credit checks to see days-to-pay and industry references.
The app's load search functionality also has improved. "The only functionality that's missing is some of our filtering tools," Boren says. "We're currently in development to add filtering of search results by weight or by a company."
Boren says roughly a quarter of all parties accessing Internet Truckstop's freight resources do so from a smartphone.
"We have roughly 40,000 users of the ITS Trucker app, with 12,000 using the brokerage version," he says. "We're close to 100,000-plus folks accessing our site via their mobile browser."
The ITS basic carrier account costs $35.
GetLoaded
The iGetLoaded app released for the iPhone in 2010 led to the "big three" boards optimizing the smartphone user's experience of load search and other tools. Now also available on Android, the app's "seeing a lot of use to complement what operators are seeing on their laptop," says Butch Sarma, product manager.
"Probably the coolest thing on the app is the 'find-loads-near-me' function" that – like the My DAT Trucker Services load search – uses the phone's GPS for live load search via current location, Sarma says. In iGetLoaded, search parameters also can include other locations and specified radius. App users also can check brokers' credit scores, and "there's a click-to-call feature."
GetLoaded.com built its main site for the small screen, and many operators are using smartphone web browsers and smaller old-style feature phones – on which apps aren't functional – to search loads, says Sarma. "The website is extremely minimal – as 'skinny' as it gets to help drivers find that load," he says.
An email-alert function helps build a bridge between traditional searching patterns and on-the-go load planning via smartphone. Working via laptop or desktop or from standard view in a mobile browser, users can search a particular area and set the search as an email alert.
"As new loads come in, they keep finding your phone," Sarma says. "We built it so that it's text-based data and will work on any style of phone." Users can see newly available loads at a glance, and they "keep on coming until you tell it to stop," says Sarma.
Find Part 2 in this series, detailing various operator strategies toward load-board use, via this link.