On its face, the KeepTruckin smartphone / tablet-based logs and dispatching app looks somewhat familiar among the crowded market for such software — Big Road, uDrove, XRS and several others already offer software that is built around similar functionality. This one sets itself apart in a couple ways — both dispatching and computer-assisted logging functionality come free of charge, with messaging, log auditing, and load-tracking functionality similar to Trucker Tools' Load Track function, among others. The back-office dispatch function is geared through a web-based application and managed by login, potentially convenient for small-fleet owner-operators who serve both driver and dispatcher roles. Data is stored in the KeepTruckin cloud.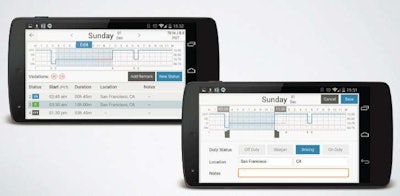 "Drivers can log in to KeepTruckin.com and they can download their logs at any time," says KeepTruckin CEO Shoaib Makani. "And a driver can send their logs to anyone (including themselves) via e-mail or fax."
And: this is a Silicon Valley creation — trucking software meets, er, Google.
"Google Ventures is our lead investor," says Makani. "We have assembled an incredible team of engineers and product designers to help make the lives of America's truckers easier."
The firm has big plans for further development of offerings for fleets, drivers, owner-operators and dispatchers in future. Among those mentioned in a fact sheet sent out to press: low-cost freight factoring, automated brokerage, dynamically priced insurance. "KeepTruckin's first premium service is being developed now and will be released in Q2," reads the sheet.
As goes the potential to use the app's service to satisfy the electronic log mandate many are expecting to hit proposed-rule stage by the end of the year, that's not in the cards as yet. For now, KeepTruckin is a computer-assisted log, not a fully functional EOBR/ELD (which traditionally has required tethering to the truck's systems, among other functionality). But, Makani says, "We are following the rulemaking closely. If/when the regulation is final, KeepTruckin will give fleets the tools they need to be compliant with all regulation."
Interested drivers with Android devices can try out the app via this link. If you have an iPhone or iPad, use this link. To sign up to try the dispatching service, visit KeepTruckin.com.
Drop us a comment here to tell us what you think if you do.
Following find a promo vid for the KeepTruckin app that outlines the basics of the logging functions.
[youtube FWk86X6TZwQ nolink]