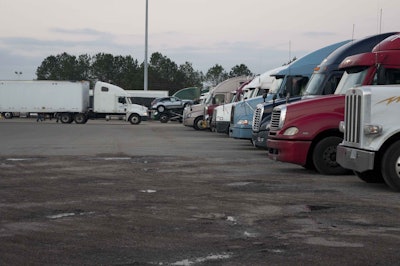 An increase in the minimum amount of liability insurance required of motor carriers was a hot topic in the last two years, but the issue may be on the regulatory backburner, according to Brett Stalnaker with Progressive Insurance.
He said talks heated up late in 2014 to raise the minimum from the current $750,000 required in liability insurance, but because of other regulations dealing with FMCSA's Compliance, Safety, Accountability scores, electronic logs and more that came about toward the end of the year, talks have cooled off.
The agency published in late 2014 an Advanced Notice of Proposed Rulemaking seeking feedback from the trucking industry and other stakeholders about a potential increase in the liability minimum.
"Things have quieted down a lot on liability," Stalnaker said. "If the minimum is raised in the future, we do offer up to $2 million in liability, so we're ready when that does happen. For now, though, it seems to be on the backburner."
Stalnaker added that Progressive will be announcing in the coming months more information on electronic logs and efforts the company is making to ease the transition for drivers into the mandate.
The company has also launched a website, Trucker Territory, that celebrates truckers with their stories of getting into the industry and things they enjoy about trucking. They're also holding a contest on the site for drivers to submit a story and a photo for a chance to win $1,000.