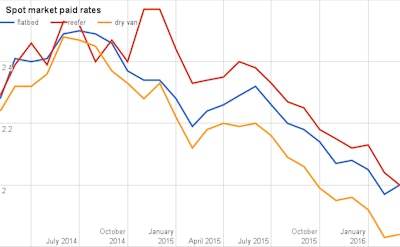 Per-mile spot markets for the three major truckload segments remained mostly stagnant in March, according to monthly rate data from Truckstop.com, continuing a now year-long streak of lackluster rates.
Following big drops in February, per-mile rate averages paid to carriers saw little in the way of a rebound in March, with van and flatbed posting small gains and reefer rates declining further from February's dip.
Industry analysts point to an overall slowdown in freight growth coupled with cheap diesel as the reasons for the steadily cheaper rate averages.
Paid rates, verified rate averages paid to carriers, for reefer haulers fell 4 cents in March from February to $2 a mile. That's 34 cents lower than March 2015 and 40 cents lower than reefer's most recent high last May. Reefer rates have fallen every month since, except for this January.
Flatbed rates in March also averaged $2 a mile, up three cents from February but down 24 cents from the same month last year. Last month's was the worst showing for spot market van rates in three years.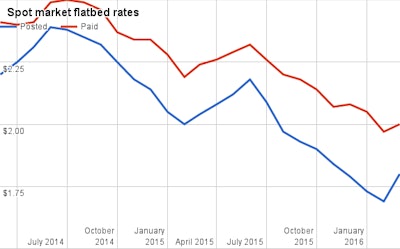 Van rates in March climbed a penny to $1.84 a mile, 34 cents below March 2015. March's increase was the first for van rates since last August.