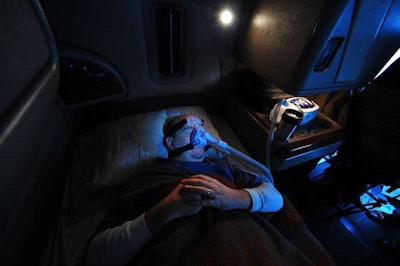 The American Transportation Research Institute is looking for input from truck drivers via a new online survey dealing with issues related to sleep apnea.
The survey will ask drivers about their perspectives, personal experiences and knowledge of sleep apnea. It also solicits information on sleep apnea assessments and treatments that drivers may have received, as well as the perceived effectiveness of the treatments. ATRI encourages all drivers to participate in the survey, whether they have personal experience with sleep apnea or not.
The survey results will be used with other sleep apnea and driver fatigue research, then analyzed by several leading sleep apnea experts, ATRI says. The title of the study is "Understanding the Impacts of Sleep Apnea on Commercial Drivers," and it was selected as a top priority for ATRI in 2016.
"This is the first large-scale data collection effort that seeks to find out what professional drivers know about sleep apnea and, for those who have been through a sleep test, to better understand what the impacts, especially costs, of testing and treatment are on drivers," said Bob Stanton, a professional driver diagnosed with sleep apnea in 2002 and co-coordinator of Truckers for a Cause, a patient support groups for drivers with sleep apnea. "I strongly encourage my fellow drivers to take a few minutes to complete ATRI's confidential online survey."
The online survey will be available here through mid-May.