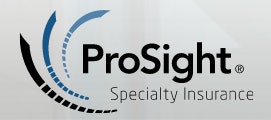 The ProSight Specialty Insurance company announced a drug-testing program that in some ways goes beyond the minimums of DOT-compliant testing programs. Developed in partnership with the Foley Carrier Services DOT compliance and employer-assist firm, the new program claims to "identify the riskiest drivers that typically go undetected."

The drug testing program, available at a 30 percent discount to existing ProSight clients, includes a robust drug testing package to help identify drivers and machine operators utilizing drugs not monitored in a typical Department of Transportation drug test, including "risky pharmaceutical drugs that account for 30 percent of post-accident positive tests," the company says. The service could "provide a more complete profile of driver substance abuse."
The program, powered by Foley, comes in three options:
1. Enhanced Drug Testing package
An enhanced 10-panel test ProSight says is 2-3 times more likely to return a positive.
A nationwide network of 9,000 testing centers
Faster-than-average results compared to industry standards
2. Driver File Management package—Includes the Enhanced Drug Testing package above, plus:
Maintenance of all DOT driver files in audit-ready format
Tracking motor vehicle records
Storing cognitive/medical assessments
Handling background checks
3. Basic DOT testing package
Includes the standard DOT-compliance test conveniently administered by Foley
Queried as to practices with small fleets and independents, the company noted it would be pooling smaller carriers into a DOT-compliant overall pool of its own for the purposes of random testing rates. The testing and selection process is managed by Foley.