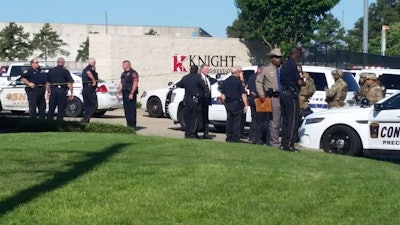 UPDATE: Thursday, May 5 – 1:30 p.m.:
The identities of the victim and the shooter in Wednesday's shooting have been released as officials continue to investigate the case.
KPRC2 is Houston has identified 65-year-old Marion Guy Williams as the former Knight Transportation employee that entered the company's Katy, Texas, terminal with a shotgun and shot and killed Mike Dawid, Williams' former supervisor according to the report. Two other Knight employees were injured by flying debris, and a Harris County Sheriff's deputy was injured in a fall, the news station reported.
A fund has been set up for Dawid's wife and 2-year-old son.
UPDATE: Wednesday, May 4 – 2:25 p.m.:
A company spokesperson for Knight Transportation issued the following statement Wednesday afternoon:
"It is with deep sadness that we confirm a shooting at our Katy, Texas facility, and the death of a Knight Transportation employee. Our deepest sympathies are with the family during this difficult time.
This was the action of a lone former employee, who also died as a result of today's events. One other employee was confirmed to have injuries, and was treated at the scene and released.
We appreciate the quick response of authorities and are closely monitoring the situation. Knight is doing everything possible to ensure the safety of all of its employees. Counselors will be on site to support our employees. We have suspended all work at our Katy facility pending completion of the investigation."
The original version of the story can be seen below:
2 reported dead at Knight Transportation in Katy. Shooter – disgruntled employee-dead w/ one other pic.twitter.com/mhu6BctnHX

— Phil Archer (@PhilArcher_KPRC) May 4, 2016
Two people have been killed and another injured Wednesday morning in a workplace shooting at a Knight Transportation terminal in Katy, Texas, according to a report from Houston NBC affiliate KPRC2.
According to the news report, Harris County Sheriff Ron Hickman said the employee was fired recently and came back to the terminal and shot two people, killing one, and then shot himself.
Check back throughout the day for updates to this story.
#BREAKING: DPS: Disgruntled employee fatally shot coworker, injured another. Shooter dead. https://t.co/RCmdrPhp15 pic.twitter.com/LlLK3QxOYa

— KPRC 2 Houston (@KPRC2) May 4, 2016
2 reported dead at Knight Transportation in Katy. Shooter – disgruntled employee-dead w/ one other pic.twitter.com/mhu6BctnHX

— Phil Archer (@PhilArcher_KPRC) May 4, 2016
.@SheriffHickman suspect at Knight Transportation was fired this AM, came back, shot killed co-worker, shot another, killed himself @KPRC2

— Sara Donchey (@KPRC2Sara) May 4, 2016