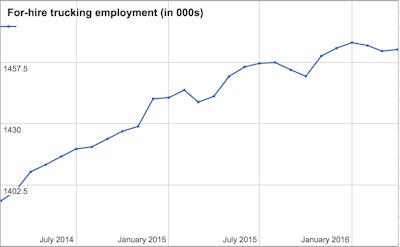 The for-hire trucking industry added 700 jobs in the month of April, according to preliminary figures reported Friday by the Department of Labor.
The employment gain ends a two-month skid in which the industry lost 2,500 jobs in March and 1,300 jobs in February. Trucking's jobs gain reflect those throughout the rest of the economy, which saw an employment increase of 160,000 jobs in April, keeping the national unemployment rate steady at 5 percent.
Total employment in the for-hire trucking industry totaled 1.4632 million in April, according to the DOL.
The construction industry in the month, meanwhile, gained 1,000 jobs, according to the DOL, and manufacturing gained 4,000.