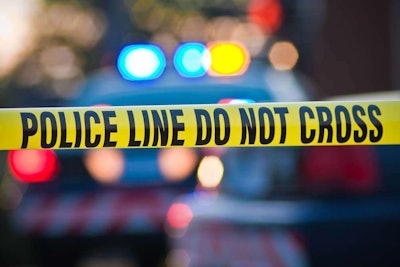 UPDATE: Monday, May 9, 1 p.m. – The Jacksonville Sheriff's Office says that the truck driver shot to death by another trucker while driving on Interstate 10 Saturday near exit 351 in Jacksonville appears to have pulled out in front of the suspect prior to the shooting.
"It appears that our victim was going through a construction zone and went from the right lane into the left lane in front of the suspect, possibly cutting him off inadvertently," Jacksonville Sheriff's Office Sgt. Jay Farhat said. "As soon as our victim got over into the right hand lane, the suspect pulled up alongside in the left hand lane, extremely close, possibly even bumping his truck. And then it appears he even fired multiple shots into the cab, killing the victim."
Authorities have issued alerts throughout the country asking anyone to come forward about a suspect in a dull-orange, early to mid-2000s Century or Columbia Freightliner who authorities say pulled up alongside a truck being driven by 44-year-old New Jersey resident George Guerrero and shot several rounds into his cab, killing him. The Jacksonville Sheriff's Office says the truck is pulling a white trailer featuring the name Sunco Carriers.
Original story follows:
Authorities are still searching for a trucker that they say shot and killed another trucker Saturday while driving eastbound on I-10 in Jacksonville, Fla.
Witnesses told the Florida Highway Patrol that around 1:50 p.m. a bearded man driving an orange, early-to-mid 2000 Freightliner with a white trailer pulled up alongside another semi-tractor trailer, bumped into it and then shot the driver who veered off the road and crashed in the woods.
FHP said they found 44-year-old New Jersey resident George Guerrero dead at the wheel about a half-mile west of Chaffee Road (Exit 351) on the west side of Jacksonville.
Besides FHP, the Florida Department of Law Enforcement and the Jacksonville Sheriff's Office are also investigating the murder. Evidence has been collected from the highway, including broken glass, news4jax.com reported.
Investigators plan on reviewing the contents of the black box in Guerrero's truck to learn how fast he had been traveling along with other details.
Weigh stations and law enforcement along I-10 and Interstate 95 have been told to be on the look-out for the shooter's truck.
Anyone with information about the crime is asked to contact the Jacksonville Sheriff's Office at 904-630-0500 or by email at JSOCrimeTips@jaxsheriff.org. Tipsters wishing to remain anonymous are asked to contact Crime Stoppers at 1-866-845-TIPS. Callers to Crime Stoppers may receive an award of up to $3,000.