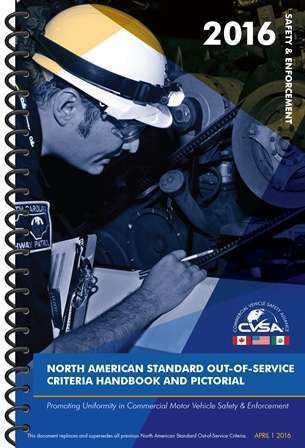 The Commercial Vehicle Safety Alliance's changes to its Out of Service Criteria went into effect the first of last month, April. The alliance's "North American Standard Out-of-Service Criteria Handbook and Pictorial" is a comprehensive guide to the entirety of the criteria and is available for purchase in both print and electronic formats at this link ($35 for members, $45 for nonmembers).
• Part I of the handbook details violations which would place a driver out-of-service.
• Part II identifies critical vehicle inspection items and provides direction on identifying the point at which a CMV can no longer be safety operated due to the risk of causing an accident or breakdown.
• Part III of the handbook provides guidance for unsafe hazardous materials transportation, including conditions which fail to communicate a hazard and those which are themselves hazards.
• Part IV establishes criteria for placing a motor carrier out of service.
Downloads for the new electronic version of the handbook are available on up to three devices per copy.
Changes to the criteria this year are largely clarifications/revisions to existing criteria and are outlined in this summary document detailing the changes.
Summary of new OOS criteria follow:
**TIRES | As the linked document detailed, the CVSA Vehicle Committee "voted to add language to the OOSC establishing a new OOS condition for debris between tires in a dual set." A "solid object lodged between tires" now consititutes an out-of-service condition.
**LIGHTS | Situations where a trailer pigtail was "left unplugged, had become unplugged in transit, or [had] a defect in the cord or a connector," such as this previously reported case, are now out-of-service conditions. "After a lengthy discussion," the CVSA round-up notes, "the Committee agreed that a reasonable violation for this situation would be to cite § 393.23," having to do with lamps' power supply, "and place the vehicle OOS."
**STEERING MECHANISM | The same committee previously voted to "add language to the OOSC making a missing power assist cylinder an OOS condition," in addition to refining current criteria that made a loose cylinder an OOS condition to better specify just how loose.
**DRIVELINE/DRIVESHAFT | New language reflects a "missing bearing cap retainer clip" as an OOS condition. An "imminent hazard exists," CVSA says, "when a U-joint bearing cap retainer clip is not seated in the groove."
Read more about the changes at this link.