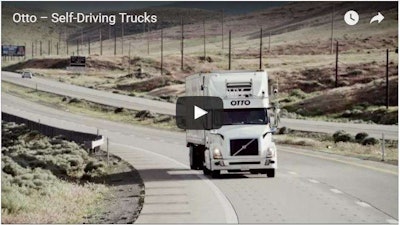 Per reporting from The Verge, The New York Times and Overdrive sister site CCJ, a few former Google employees who worked on the company's self-driving car project have turned their attention to larger self-driving vehicles: An autonomous retrofit system for Class 8 trucks.
Otto, the new company formed by the former Google employees, are working on a platform to retrofit already existing trucks with automated technology, such as road-reading lasers and cameras, sophisticated GPS mapping and more, to allow already existing trucks to drive autonomously. The company hasn't yet offered any pricing figures for its systems.
The founders, former Google engineers, also enlisted the help of engineers from Apple and Tesla, other major tech giants who've invested in self-driving or futuristic car technologies.
Otto this month performed a road test with a Volvo VNL 780 outfitted with the company's system in Nevada, the only state in the country which has legalized autonomous vehicle testing on its roadways.
Check out the video above to see the rig in action. Click here to see a write-up from The Verge for more on the development of the Otto truck.