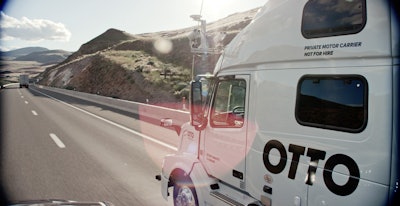 Trucking tech startup Otto announced Aug. 18 it has been acquired by ride-sharing tech giant Uber. The two companies say they have plans for not only deploying an autonomous retrofit system on tractor-trailers, but also for bringing Uber-type technology to trucking to create a nationwide load-truck matching platform.
Though the term "Uberize" has bounced around in trucking in recent years, this is the tech company's first official foray into the trucking industry.
Otto was founded by former tech executives from major players like Google, Tesla and Apple, announcing in May its plans to develop a system that could convert traditional Class 8 trucks into self-driving vehicles.
The acquisition by Uber, however, paves the way for something more, Otto said in its Aug. 18 announcement. "By combining these two technologies, we can create a freight network that is constantly learning and improving. Each truck that joins the network can provide valuable information that makes all other trucks safer and more efficient. In turn, drivers get paid more and shippers get a more reliable service. Self-driving trucks together with a marketplace create a virtuous cycle where everyone benefits."
Otto founder Lior Ron says the companies expect to develop an on-demand platform that matches drivers with loads and shippers with carriers. Self-driving trucks, Ron says, provide safety, predicability and the ability to keep the trucks on the road. The platform, he adds, is a way to help boost productivity, aid carriers in finding freight and improve efficiencies in the marketplace.
"The self-driving piece is something that can increase capacity over time," Ron says. "We see the platform as a way to help drivers and fleets and owner ops to be more productive. We can use the know-how that Uber has on the passenger platform side and use that to evolve a similar solution on the commercial side."
Note: Overdrive will continue to update this story throughout the day.