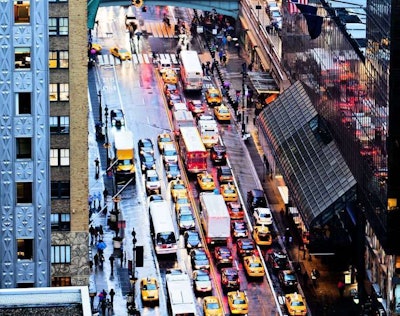 New York City has agreed to settle a class action lawsuit brought by the New York Trucking and Delivery Association, in which it will pay truck drivers roughly $14 million. The NYTDA alleged in its suit the city intentionally ticketed legally parked trucks in an attempt to drive revenue.
A federal judge still must approve the settlement, which would compensate anyone who "owned a New York State registered commercial vehicle and were members of the Stipulated Fine Program who received a ticket for a traffic lane violation between June 1, 2006, and Oct. 31, 2010, requiring them to pay a $40 fine."
From May 2006 to October 2010, NYTDA says that traffic ticket cops issued traffic obstruction tickets in lieu of double-parking tickets. NYTDA says the city did that to get around a 2004 program that prohibited ticketing a double-parked delivery truck. Over that four-year period, the city raked in $14 million in traffic obstruction fines.
So long as they're making deliveries beyond 14th Street to 60th Street and First Avenue to Eighth Avenue, the Stipulated Fine Program permits delivery trucks to legally double park, so long as there's not an open space within 100 feet and so long as there's no half-hour period where business isn't being conducted.