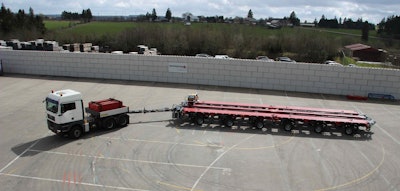 With its new DualMax line of heavy/oversize-haul equipment, the European Faymonville manufacturer was recently able to offer a modular trailer that can be widened in loaded condition — and that is designed specifically for the requirements of the North American market.
"All axles under load can be easily and securely widened from 14 to 20 feet," notes Faymonville's North American Sales Manager Paul Hönen — and that without disconnecting the steering system. "We've baptized this unique and patented principle 'lift&shift.' The loading platform can be adapted to the size of the load or its distribution on the ground."
Contrasting the feature to those of other suppliers, says Hönen, "Everything stays in place. And the tried-and-tested swing-axle technology guarantees optimal maneuvering."
The DualMax meets the statutory provisions that apply in the USA and Canada, the company says.
The trailer's combination of "cutting-edge technology with extremely practical development," the company says, impressed American Heavy Moving & Rigging Inc. of Chino, Calif. The company equipped its vehicle fleet with 36 axle lines of the new DualMax.
The torsion-resistant chassis holds high point load capacities on the central beam and the outer frames, notes American Heavy Moving owner Earl Sutton. "At 10,000 pounds/axle line, the DualMax has an optimal payload to net weight ratio." The "flexible vehicle" concept permits a load per axle line of 52,900 pounds at 50 mph.
The chassis of the DualMax is zinc-plated, offering corrosion protection. Faymonville representative Marco Andres also notes that, with New Jersey-based "Hale Heavy Haul, located in Voorhees, Faymonville also has an official U.S. representative and sales agent."
Find out more about the DualMax via this video the company put together about it, including a "lift&shift" demonstration:
[youtube _HfEiL1GPew nolink]