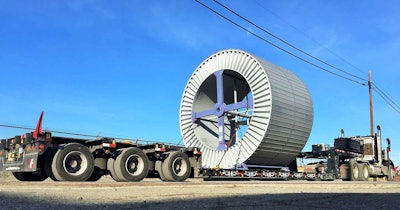 The Belgian trailer manufacturer Faymonville returns to Conexpo in Las Vegas in March this year and will showcase a range of heavy-haul trailers made specifically for the North American market. Shown above, the three-axle MegaMax super low, double drop trailer is available with diverse deck types, such as a low stretch-perimeter deck or a non-stretch flat deck. It's an ideal solution for extremely high and bulky freight like industrial parts, machinery or oversize containers, the company says.
The MegaMax also features king-pin steering, which the company says is unique to North America. The king-pin steering allows greater maneuverability and access into extremely tight areas. The MegaMax is available with three axles on air suspension (total stroke of 9.4 inches). With a compressed length of 53 feet and a width of 100" without outriggers, it can be run empty without escorts or permits.
Electric and pneumatic components are DOT approved, following US standards, Faymoville says.
Other MegaMax specs:
Hydraulic self-lifting detachable gooseneck for continuous height adjustment and easy access with machines
108-inch gooseneck rear swing clearance
Super-low perimeter stretch deck – 13.8-inch drive height (at 3.9-inchground clearance)
Deck length: 25 foot closed – stretches to 42 foot, 4 inch
Detachable rear bogie to additionally increase the length using deck inserts
42-degree steering angle
PTO connection and Honda pony motor for hydraulic functions
Around 100,000 lbs. technical capacity
The four-axle DualMax dual-lane modular trailer can be widened under load from 13 foot, 11 inches to 20 feet. Faymonville pioneered the patented "lift & shift" principle, the company says, allowing optimization of the load distribution and to adapt to different states' regulations.
The folded frame is less than 8 feet wide and 8 feet tall, making return transports easily possible on conventional lowbed or flatbed trailers, Faymonville says.
Other trailers to be shown at Conexpo is a new four-axle G-SL modular trailer with a point above wheel arches of 110,000 lbs. The G-SL module allows 99,225 lbs. of axle load per axle line and a steering angle from -60 to 60 degrees.