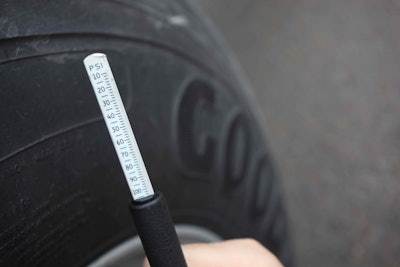 The Commercial Vehicle Safety Alliance's annual International Roadcheck inspection blitz, which will focus this year on tire safety, will be held June 7-9.
In advance of Roadcheck, Goodyear and Bendix have released some tips on tire safety to help owner-operators and carriers prepare for the inspection spree.
Both Bendix and Goodyear say proper inflation is key to having safe tires. Both overinflated and underinflated tires cause problems, says Goodyear, including irregular wear, possible loss of traction and, especially with underinflation, excessive heat buildup. Goodyear recommends checking tire pressures at least once a week to avoid problems.
Bendix says its research indicates 90 percent of tire blowouts can be attributed to underinflation, and nearly half of all emergency service road calls are tire-related. The company goes on to say proper tire inflation can not only impact safety, but also tire temperature, which could result in uneven wear or a blowout, and cost savings. Tires are a big expense, and keeping tires properly inflated can extend tire life, Bendix adds.
Bendix says a tire pressure monitoring system, such as the company's SmarTire TPMS, can help drivers and fleets keep an eye on tire pressure and temperature to help detect potential problems with tires.
Goodyear also suggests making visual and tactile inspections to check for cuts, cracks, blisters, bulges and other issues. "If detected early enough, these patterns can be corrected to help extend tire life," the company says.
Keeping your trucks aligned, both on the front end and the drive axles, can also help prevent irregular tire wear, Goodyear says. The company also recommends not mismatching tires, as a diameter difference larger than a quarter-inch can create scrubbing on the smaller tire, Goodyear says.
CVSA says inspectors during Roadcheck will be measuring tire tread depth, checking tire pressure, checking to make sure no items are lodged between dual tires and examining the overall condition of the tires to ensure no deep cuts or bulges exist in the sidewalls.