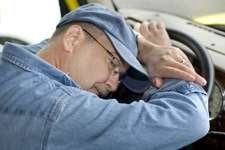 Just as fatigue management and measurement are increasingly wound tightly into conversations around safety and enforcement on the road, the REM Safe Technologies company is looking for owner-operators interested in participating in a pilot proof-of-concept test of its Dynamic Assessment of Situational Awareness (DASA) fatigue management system.
The system utilizes the psychomotor vigilance task (PVT) test, taken several times through the day on an operator's smartphone or tablet, to set a baseline for each individual's fatigue levels throughout a typical day. Operators "will do the PVT eight times" throughout the baseline day, says Cyd Smith, working in driver outreach with REM Safe and DASA. The PVT test would be taken less often thereafter, with results analyzed by staff on the back end to assist the driver in determining "just what's causing their specific fatigue," Smith adds, at particular points throughout the day.
The program "takes you outside the box," Smith says, of both your own assessment of fatigue and traditional approaches to fatigue management toward a deeper understanding of what drives your fatigue. The system aims to deliver personalized guidelines for improving performance and to help provide the self-motivation to exercise the recommended performance improvements.
The REM Safe company hopes to conduct a pilot project with at least 50 drivers trained on the DASA system. Upon successful completion of the pilot, as notes a document outlining the system, full commercial implementation could commence, the company says. Smith says the company is working with a couple of fleets as well as some driver-training organizations at present.
Those interested in participating as an individual can contact Smith directly, she says.