Spot market rates in two major truckload segments climbed for the second straight month in May, according to per-mile data reported to Overdrive each month by Truckstop.com, while the other major segment remained unchanged.
April was the first month since April 2015 that all three segments — reefer, dry van and flatbed — rose from the prior month. Following record setting showings in mid-2014, per-mile rates on the spot market have steadily fallen, mostly due to lower fuel prices and softer freight environment.
The charts below compare each segment's paid rates — verified averages of per-mile rates paid by brokers to carriers — compared to posted rates, pre-negotiated rate offers posted by brokers.
Flatbed: Paid flatbed rates rose 2 cents in May from April to $2.08 a mile, coming off the heels of April's 6-cent upswing. Compared to the same month last year, flatbed rates were down 21 cents. May's per-mile average is a 2016 high-mark for the segment, however: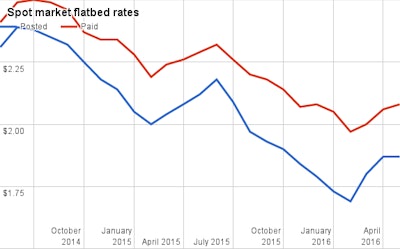 Reefer: Paid reefer rates rose 5 cents in May, per Truckstop.com data, to $2.08 a mile — a 32-cent decline from May 2015: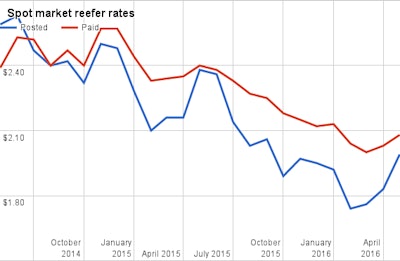 Van: Van rates went unchanged from the month prior, according to Truckstop.com. Van's per-mile paid rate average for May was $1.85, down 34 cents from the same month in 2015: