So, you probably don't hear a lot of people talking about their serotonin levels, especially around the Counter of Knowledge.
Billy Jo: "Yeah my serotonin levels are down, gotta get me some acidophiles to boost my gut bacteria up, get me some happy juice flowin' to the ol' melon."
Rufus: "I heard a guy on the CB say serotonin is gettin' ready to be regulated by the FMCSA."
Billy Jo: "I had a cop in New York City tell me to run over a whole truckload of serotonin once – or he was gonna give me ticket…"
It's true not many of us are really proactive about body chemistry, but serotonin is important to life quality, and improving your life quality is the business Carolyn O'Byrne is in.
Life Coach Service LLC is the result of a passion for drivers and their families she brought to fruition after spending 16 years heavily involved with the trucking industry. Having a husband as a driver has helped her take the life-service industry into many directions within the trucking industry, where she specializes.
Truck drivers have a very special place in Carolyn's heart, she's always felt strongly that drivers and their families have challenges most people just do not understand. She feels an ongoing need for these many situations to be addressed, and knows that education is key in helping people help themselves.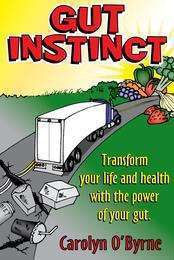 Her new book, "Gut Instinct: Transform Your Life and Health with the Power of Your Gut," is geared specifically to the driver, and not only has information regarding gut health, but recipes and food education to help guide those looking to eat not just to lose weight, but to achieve and retain a level of health that promotes an overall happier lifestyle forever.
Here's a fun fact I bet you didn't know about gut health: Almost 90 percent of serotonin is produced in the gut. It's called "peripheral serotonin," and it requires a fairly specific environment to exist. Let me back up a second for those who aren't excited about the previous statement – serotonin is what the brain uses to transmit signals, especially those good feels we all love so much. As a matter of fact, love is one of those feels, so getting your gut in order quite literally makes you love yourself. It's fantastic, if you really consider it.
A late June release of the book will be celebrated at GATS, where Carolyn will host a meet and greet with the MATS2GATS fitness challenge folks. She looks forward to face to face interaction with people she hopes to help most. (Date and time will be available on the Mats2Gats Facebook page as GATS gets closer.)
I'm always happy to meet folks like Carolyn, who feel a calling to help others make their lives better by giving them the correct tools with which to build their own versions of health and happiness. We'll do a follow-up when her book publishes, and have details about how to get it when it's available.