Pretty much everyone reading this understands the importance of putting good fuel in an engine. They also understand the delicate balance of systems required to run one properly, to the highest level of efficiency, and that preventive maintenance is almost always cheaper than repairs. They fully understand this about their truck, and educate themselves about it to maximize the machine, but there's an important element often forgotten. That machine doesn't run without the driver, no matter how tip-top the condition of it.
The importance of driver health has never been more in the forefront. The industry is quickly being ruled into a huge hoard of C-pap wearing cyborgs, and minimum health requirements are only going to get more stringent with coming regulation. Taking the initiative to control your own health now will not only give you a longer career, but more freedom to enjoy that career.
Better overall health isn't nearly as daunting as one would think. It starts with very basic principals, just like maintaining a truck. Feed the body well, keep the gut in good order, maximize the machine. It really is a simple as it sounds, especially with a little bit of guidance and education.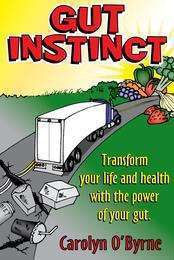 In her new book, "Gut Instinct," Carolyn O'Byrne has captured the ability to impart detailed health information in easily digestible language. (Sorry, I couldn't help myself.) She's straightforward, and has a very compelling personal journey to back her science with. Her background in trucking has helped her gear specific information to drivers, making it all the more valuable for those living life on the road.
Carolyn not only explains the whys well, she helps with the hows by adding a variety of her own favorite recipes, ranging from smoothies to meal starters. (Don't worry, it's not all salad and eggs — there are desserts, too.)
The book is available now and can be downloaded to any device. Carolyn will also be at GATS, and looks forward to meeting the participants in the MATS2GATS Fitness Challenge in person. The challenge, put together by herself and our buddy Tex Crowley over at Texomatic Pictures, challenged drivers to improve their health between the dates of MATS and GATS. Participants are using the community to share their progress and things that are working for them, as well as support and encouragement. Winners of the challenge will be announced in the Landstar Health Pavillion at GATS this year.

"Drivers, I am on your side, and my goal is to help you and your loved ones achieve excellent health. With this information, let me support you in boosting your health into overdrive…"
Good stuff, Carolyn. Thanks for putting it out there.