Holidays are stressful for a lot of people. For whatever reason, and there are hundreds this time of year, November through January seem to induce more worry and consternation, which also leads to a tendency toward poor eating, sleep and exercise habits. Unfortunately, these habits make it harder to bounce back from the holiday blues, because they throw our bodies into an unhealthy cycle, which in turn directly affects our mental acuity and balance.
The key is not bouncing at all. It really is a possibility to maintain an even keel through stressful events and seasons, it just requires some basic mind/body work, and a conscious effort to do that work.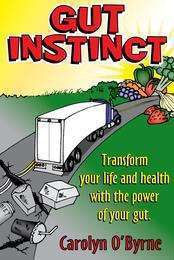 Carolyn O'Byrne's book, "Gut Instinct," has a great platform for helping achieve the body balance, and explains a great deal about the connection between a healthy gut and happy mind. Serotonin, a neurotransmitter that is involved in the transmission of nerve impulses, is created in the gut and requires a specific, healthy, environment in which to thrive. It's responsible for a large portion of the good feelings we experience, and healthy serotonin levels promote better overall body function.
While having a healthy body definitely puts you ahead of the game, a healthy mind and attitude will dictate the outcome of both. The phrase "mind over matter" is as powerfully true as it is simple. Any medical professional will tell you the attitude of the patient is a key factor in their overall health.
In 1903, a British philosophical writer name James Allen wrote "As a Man Thinketh," a book he described as one about "the power and right application of thought." The title is influenced by a verse in the Bible from the Book of Proverbs, chapter 23, verse 7: "As a man thinketh in his heart, so is he." Allen's book has been widely recognized as a source of inspiration for modern day self-help authors, and has been mass-produced since its first publication.
The combination of a healthy body and happy mind doesn't always solve all the problems, but it gives you a better quality of tools to choose from when you need them. Holiday stress and the depression that sometimes accompanies are very normal human reactions. Know that there are resources available, beyond eating right and having a "glass half full" attitude. If you feel overwhelmed, or unable to stop the "bounce," don't hesitate to reach out to friends, family or professionals who can help.
Have a happy, healthy holiday!