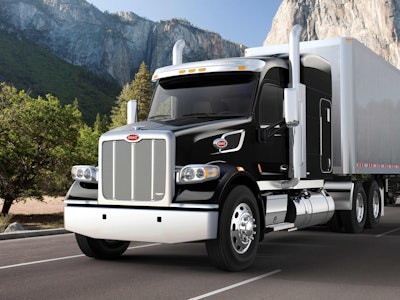 Peterbilt is going back to its roots with its newest vocational truck offering, the special edition Model 567 Heritage, which combines modern technology with stylings like that of older Peterbilt models, the company says.
The truck is configured with a 121-inch BBC set-forward front axle to optimize payloads and weight distribution, the company says, and it's available as a day-cab or with a 72- or 80-inch sleeper.
The truck also features a laundry list of exterior features including bright bumper, grille bars, exhaust stacks, mirrors and sun visor; chromed air intake bezel and metal hood latches; polished rocker panels, quarter-fender closeout panels, fender brace and brackets, battery boxes and fuel tanks; along with special Heritage badging.
The interior of the truck features Heritage Brown interior with a black dash top and wood-finish trim; brown leather seats with accent stitching; and door pads with brown wood trim. Trucks equipped with a sleeper include wood trim accents on the sleeper cabinets and storage spaces.
The Model 567 Heritage is available for order through Peterbilt dealerships with production scheduled for September.