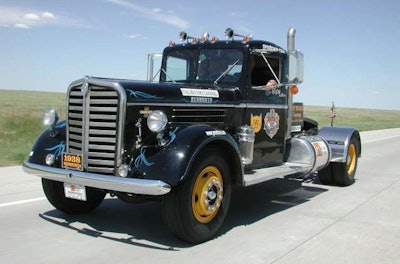 The Cat Scale 1938 Kenworth will once again compete in a portion of the Hemming's Motor News Great Race this summer.
The Great Race is a time/speed/endurance cross-country road rally for vintage vehicles manufactured at least 45 years ago. The 2016 event will be run over nine days from San Rafael, Calif. on June 18 to Moline, Ill. on June 26.
Cat Scale's vintage truck will compete from Cheyenne, Wyo. to the race's end-point in Moline, Ill. The truck will be the only semi-tractor in the competition.
Iowa 80 Trucking Museum in Walcott, Iowa will host lunch for the racers June 26 before they head to the finish line in Moline.