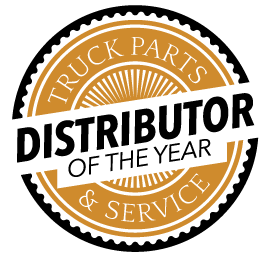 Roughly three weeks remain for all commercial fleets and vehicle owners to nominate their best industry partners for the Truck Parts & Service Distributor of the Year award. TPS is a sister publication of Overdrive.
The Distributor of the Year award, sponsored by Meritor and Minimizer, stands as the independent aftermarket's most respected and highest honor. Now in its 15th year, the award is presented to an independent parts distributor and/or service facility who exemplifies excellent customer service, product knowledge and willingness to improve and evolve their business with industry changes.
The nomination process is open to the entire trucking industry through Friday, June 30, and interested parties can nominate up to three independent distributors at this link.
To date Truck Parts & Service has received submissions for nearly three dozen aftermarket distributors. The five distributors with the most nominations at the end of the open submission period will be named the award finalists, and will be released to the industry in July. The winner will be announced next January at Heavy Duty Aftermarket Week 2017 in Las Vegas.