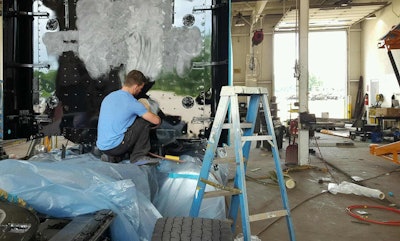 Lordy what a proud day it is when you can look up your new DOT number and it comes back with your name all over it. It's also completely terrifying. You can now officially observe the official things that make us officially The George and Wendy Show, Inc. I'm officially certain we're officially crazy as hell. Who does this when every indicator indicates the industry is on a flatline and needing resuscitation?
Well folks, we do. We do because for our current business situation, it's the best thing to do. We have been fortunate enough to create the ever-sought-after niche trucking job, and with the help of our friends and newly minted business family over at Diesel Life, we've actually gone and done it.
Ashley and Chris have spent the past six years growing their diesel apparel business to the point of being able to invest in a show truck and trailer combo to take their merchandise to truck shows and diesel performance shows for the nine-month season they run. It just so happens we have a truck, and we work very well with these folks, so George and I signed on to be some of the people who get the shirts to the shows. (We're not the only Diesel Life crew attending shows — the business has diversified into rodeo and other venues, and there are several other DL crews doing shows. We're focusing on the truck shows and diesel performance racing/tractor-pull shows.)
We have the perk of being in a bad-ass truck with a really sweet show trailer to haul the stuff around in. Hopefully, in a couple of years, there will be three or four of these set-ups, so all the traveling crews have big presence at all the shows. We also get to spend pretty much every weekend from now until November surrounded by the best of the best in trucking and diesel performance. It's going to be a lot of hard work, and I know we'll be sick as heck of shows by November, but the thought of being able to see all those sweet machines is extremely exciting to me. I got my first taste of diesel drag racing recently, and it's phenomenal. The ground shakes, the engines gurgle and spit and it's just fantastic when they scream down the line. I'm hooked.
So that's what's going on with us as far as trucking goes. With the show circuit comes sponsors and professional portfolios. Have you ever written a career portfolio/professional resume? Yeah, me either, but I had to undertake that task and, let me tell you, it's not fun to basically brag about yourself and ask for money in six short paragraphs. I'm used to being Wendy, the crazy chick who still falls out of the truck occasionally, but guess what? Sponsors don't find that nearly as endearing as my readers do, and I really had to tighten up my writing style to pull this mess off. There are definitely new challenges involved, and I'm learning new things every day.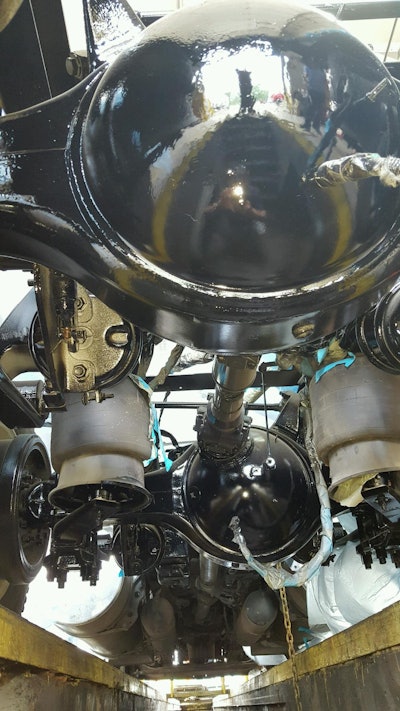 Things are coming together with the truck. Refurb1 has the paint almost to perfection. we really appreciate the special concern and detail they've taken to make it beautiful. I really can't believe they got her frame to shine like it does – there will be many more pics when she's done and ready for her close-up, Mr. DeVille. She still has to see the hairdresser in Minnesota (Greg Stahl) and the jeweler in Florida (75 Chrome Shop) to get her fancy stuff done, but without the fantastic job on the base paint, it would be like putting earrings on a pig. As much as I'd like her to be done quickly, I'd rather her be done right, and that's hard a s heck to admit.
Meanwhile, we'll be at the shows with one of the traveling Diesel Life tents, starting with the Take Pride Truck Show in Brookville, Ohio this weekend. This is Jerry Novak's first show, our buddy Tony Justice will be there as the entertainment and we expect it to be a great time. Come on out and visit – I may need a truck or two to climb up in and get my diesel fix.
Be safe out there.