Six C.R. England military veteran truck drivers have been named the newest members of the company's Honored Veterans Fleet.
Mark Evans, 23-year Air Force veteran; Leland Boyles, 10-year Army veteran; Bryan Walk, 8-year Navy veteran; Dennis Hallowell, 7-year Marine Corps veteran; Timothy Williams, 4-year Navy veteran; and Robert St. John, 4-year Marine Corps veteran, were named to the Honored Veterans Fleet.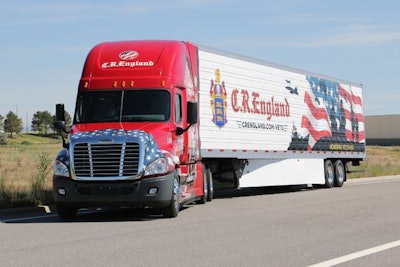 The company also awarded the first C.R. England Honored Veteran Award to retired Col. Gail S. Halvorsen who, after World War II, flew in the Berlin Airlift in which American and British pilots delivered more than two million tons of supplies to the city as part of Operation Vittles. Halvorsen founded Operation Little Vittles to airdrop candy to children during the operation, earning him the nickname of the "Candy Bomber," "Uncle Wiggly Wings," and the "Chocolate Pilot."
Hershey provided much of the candy dropped during Operation Little Vittles, so a company representative was on hand during the event to give the new Honored Veterans Fleet drivers Hershey candy bars.
Company Chairman Dan England said the Honored Veteran Award will be presented to current or past members of the military "recognizing extraordinary service to the country."