One of the favorite parts of my job is calling the winner of Overdrive's Most Beautiful to give her the good news. It's always bittersweet because the 10 finalists are so professional, strong, smart and lovely.
The first-place winners from the first three years, Maggie Riessen, Emily Weymouth and Joanne Fatta have been great advocates for Overdrive, the contest and other women in this industry. I could tell this year's winner, Brita Nowak, owner of BratCat Express, was of the same caliber from the time I called to tell her she was a finalist.
When I called a few weeks ago with the news that she was the winner, she was almost shrieking. "What, are you kidding me?" asked Nowak, 48, a German immigrant whose accent still strongly reflects her native language. "The others are so gorgeous and young!"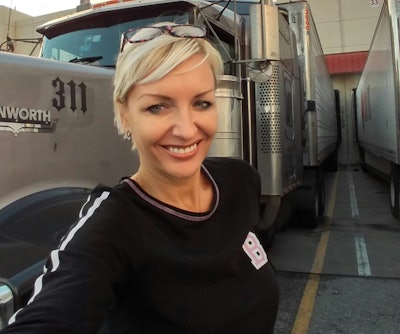 Interviewing her later, I heard a story brimming with adventure and hitting many of my sweet spots: actress on the "Star Trek" series, strong and fit, a devoted, hilarious mother who loved taking her son on the road with her, a dog rescuer, cat lover, sun and beach worshiper, independent business owner, fearless, confident and gorgeous. We never got around to talking about books, but if our literary tastes lined up, I'd have to quit my day job and go drive for her!
Another trait I admire is how honest she is about her business. She jumped into owning five trucks and then, when the economy crashed, she dialed it back to her and one truck. BratCat Express runs between Jupiter, Florida, and Manhattan. The daunting traffic and tight corners don't faze her as she unloads fruit in Chinatown and then hauls frozen food back to the Sunshine State.
She said she doesn't feel afraid in her job. "But I think I scare some of the other truckers out there," she added, then burst out laughing. Perhaps it helps that her kick-ass work boots and slightly gothic attire give off an aura of "do not mess with me." Plus, she believes it's how you carry yourself that's important. "You have to look confident and fearless,"she says.
Still, she's known to help out anyone who needs a hand and is generous with her advice — especially on the operations side, where she's frugal down to the penny. She calculates every decision, evaluates every load based on total costs, and has a loyal customer base that she can count on. "And they can count on me!" she says.
Recently, she started the process of leasing another truck with the hopes of rebuilding a fleet. "This time, I will start slowly and find the right drivers," she says.
If anyone can model a competent, strong woman flourishing in a traditionally male-dominated business, it's Brita. Check the video at the top of this post and you'll see for yourself.